G-NIUS, the Elbit Systems and IAI JV, to Develop Next-Generation UGV - Nahshon - for the Israeli Defense Forces
Category: Robots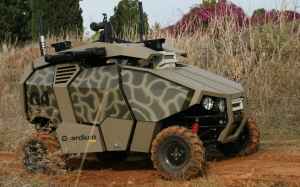 New unmanned ground vehicle (UGV) will offer improved operational flexibility and performance and will provide combat support.
G-NIUS Unmanned Ground Systems (UGS) Ltd., a joint venture of Elbit Systems and Israel Aerospace Industries (IAI), announced today that it was awarded a contract for the development of the next-generation UGV (unmanned ground vehicle) for the Israeli Defense Forces. The development phase, led by the Israeli Ministry of Defense's Administration for the Development of Weapons and the Technological Industry (MAFAT) and the Israeli Ground Forces, is to be completed by 2011.
The "Nahshon" UGV is based on the vast experience of the G-NIUS UGV Guardium™, operated by the IDF since 2008.
The next-generation UGV will offer improved autonomous movement and operational performance. Additionally, the vehicle's navigation capabilities will be intensified and will include various advanced control solutions.
The new UGV will allow increased payload weight, in order to offer better situational awareness, autonomity and independent decision making. The features of the new UGV will enable higher operational flexibility and allow activity in various combat scenarios. These advanced capabilities will also allow the vehicle to provide combat support, along with the Guardium™ which operates mainly in security missions.
G-NIUS CEO Erez Peled noted that the decision of the Israeli Defense Forces to develop a next-generation UGV reflects the necessity for such a system and its major contribution to security missions in the modern combat arena. Peled added that the Israeli Defense Forces is one of the most advanced armies worldwide in the unmanned systems field, and trusts that other armed forces around the world will follow the IDF in its selection of G-NIUS' unmanned systems.
About G-NIUS Unmanned Ground Vehicles:
G-NIUS Unmanned Ground Systems (UGS) Ltd., a leading Israeli unmanned ground systems company, is an equally shared joint venture of Israel Aerospace Industries Ltd. and Elbit Systems Ltd. G-NIUS develops and supplies a variety of autonomous unmanned ground system solutions, which are based on a common, versatile and layered avionics suite and apply emerging technological breakthroughs in navigation, control theorem, artificial intelligence and 3D artificial imaging. G-NIUS' customer base includes military, homeland security and law enforcement organizations.
Elbit Systems
02.09.2009

Share...





Elbit Systems of Australia Concludes Successful Delivery of Thermal Weapon Sights to ADF
14.05.2018
Australian Minister for Defence Industry Publicly Announced Elbit Systems' Award of Additional BMS for the ADF
28.11.2017
Elbit Systems Presents SPEAR MK2 – Latest Version of the Fully Autonomous Mortar System for Lightweight Combat Vehicles
16.05.2017
Elbit Systems Brazilian Subsidiary, Ares, Awarded an Approximately $100 Million Framework Contract to Supply Remote Controlled Weapon Stations
11.01.2017
G-NIUS Unmanned Ground Systems (UGS) LTD
Nahshon (Robot, Unmanned Vehicle)
Discuss