Oshkosh Defense to Introduce M-ATV to European Market at International Armoured Vehicles Exhibition
Category: Exhibitions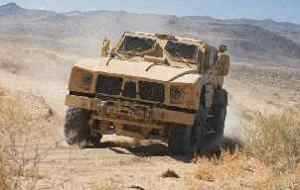 OSHKOSH, Wis. -- Oshkosh Defense, a division of Oshkosh Corporation, will be featuring the MRAP All-Terrain Vehicle (M-ATV) in its European debut at the International Armoured Vehicle Exhibition 2010, which is taking place Feb. 2-3 at the ExCel Centre in London.
Also on display at the Oshkosh booth (#268 in halls S4/S5) will be the company's protected, multi-role SandCat vehicle.
The M-ATV is now operational in Afghanistan and was designed to provide exceptional protection and superior mobility for operations on the country's rugged, mountainous terrain and unimproved road networks. Oshkosh Defense has received orders from the U.S. military to produce 6,619 M-ATVs and has ramped up production to more than 1,000 vehicles per month in response to an urgent need for the vehicle.
"The M-ATV's introduction to Europe will provide an excellent opportunity for international militaries to get a good look at this high-performance vehicle and learn more about how it can enhance the capabilities of their fleets," said Andy Hove, Oshkosh Corporation executive vice president and president, Defense. "It is a well-protected and highly mobile vehicle that was designed to thrive in combat operations in the harshest cross-country environments."
The M-ATV uses the Oshkosh-patented TAK-4® independent suspension system to achieve a 70 percent off-road profile capability and 16 inches of independent wheel travel. The TAK-4 system has undergone more than 500,000 miles of government testing and also is featured on more than 10,000 Oshkosh Medium Tactical Vehicle Replacements (MTVR), as well as the company's Logistics Vehicle System Replacement (LVSR) and Palletized Load System (PLS) A1. The system also is being retrofitted on more than 2,400 legacy MRAPs for improved mobility in Afghanistan.
The M-ATV has a payload capacity of 4,000 pounds and seats five (four passengers and a gunner). The vehicle uses a Caterpillar C7 370-horsepower engine and an Allison 3500 SP transmission, and has a maximum speed of 65 miles per hour. Its two-channel central tire inflation system has four terrain settings, which the vehicle can switch to automatically, and includes an integrated driveline lock control system. Run-flat tires allow the M-ATV to travel a significant distance at a high speed on flat tires.
The SandCat is a protected, multi-role vehicle with a modular armor system that can be customized to meet the payload needs and threat levels of varying operations, including military, law enforcement, homeland security, peacekeeping, disaster aid and security. The vehicle is available in utility and transport variants, which carry four to eight people, as well as the Special Operations Vehicle (SOV) variant. The SandCat SOV was designed for special forces units that need an open, highly maneuverable and well-protected vehicle for operations in remote locations.
Protection features include a high-energy absorbing belly deflector, ballistic steel roof, collapsible seat base and suspended seats. Armor sections made from metal composites provide protection from multiple hits and are integrated into the vehicle's design to allow for a higher payload capacity than a standard vehicle its size. The SandCat boasts a 325-horsepower engine, has a maximum speed of 75 miles per hour and features exceptional maneuverability. The vehicle is built around commercial off-the-shelf (COTS) components to maximize ease of maintenance and repairs globally.
Both the M-ATV and SandCat feature advanced armor solutions from Plasan North America and Plasan Sasa, Ltd. Plasan also developed the armor system used on more than 5,000 legacy MRAPs and thousands of Oshkosh MTVR Armored Cabs already in theater. Oshkosh is offering an M-ATV variant and the SandCat with JLG Australia and Plasan Sasa, Ltd. for the Australian Department of Defence's Land 121 "Overlander" Phase 4 program. An M-ATV variant also is being offered for the Tactical Armoured Patrol Vehicle (TAPV) program in Canada.
Oshkosh Defense
02.02.2010

Share...





Oshkosh Defense Receives Order for 248 Joint Light Tactical Vehicles
02.07.2020
Oshkosh Defense Receives $407.3 Million Order for Joint Light Tactical Vehicles
24.02.2020
Oshkosh Defense Exhibits JLTV Firepower at IDEX 2019
24.02.2019
Oshkosh FMTV A2 Makes Debut at Ausa 2018, Multiple JLTVS Command the Floor
14.10.2018
Discuss