SPV400 contender for UK MoD Light Protected Patrol Vehicle Programme unveiled
Category: Defence Industry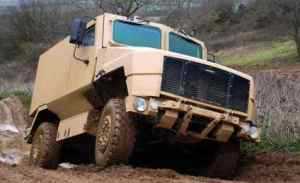 The Supacat Protected Vehicle (SPV400) today received its International Media Launch at the Long Valley Test Ground, Aldershot, UK.
The SPV400 is the contender from British high mobility vehicle specialist, Supacat, for the UK Ministry of Defence's Light Protected Patrol Vehicle (LPPV) programme. Under an Urgent Operational Requirement the UK MoD is expected to order an initial batch of 200 vehicles to enter service in early 2011.
The all-new, all-British SPV400 will give British troops the protection and mobility they need against the threat from Improvised Explosive Devices (IEDs) on operations in Afghanistan. It combines an integrated blast and ballistic protection system, including all composite protected crew pod and V-shaped hull, with exceptional cross country mobility and the agility to manoeuvre in tight urban environments.
"The SPV400 is purpose designed for LPPV and offers a 21 century solution for 21st century operations. Its clean sheet design is `future-proofed` and can be upgraded to exceed the present LPPV requirements for protection and mobility", said Nick Ames, Managing Director of Supacat Ltd.
The SPV400 is designed by Devon based Supacat, the world leader in high mobility, all terrain vehicles. Its armour protection partner is Coventry based NP Aerospace, which has designed the composite crew pod and protection system with access to the UK's classified armour technology. Supacat and NP Aerospace have formalised their Alliance Agreement under which volume production will be conducted through the Alliance at NP Aerospace's Coventry facility.
Supacat and NP Aerospace have proven track records in supplying and supporting vehicles in service with British Forces in Afghanistan, with Supacat responsible for Jackal and Coyote and NP Aerospace for Mastiff and Ridgback.
With the Design Authority for the SPV400 being UK based, all Intellectual Property Rights for the SPV400 automotive and protection systems reside with Supacat and NP Aerospace. This means the UK retains full control over future design upgrades and the SPV400 is free from US ITAR restrictions.
The selection of the SPV400 for LPPV would strengthen the UK's innovation and engineering skills base, support manufacturing jobs and ensure potential export revenues are retained in the UK. The SPV400 bid will sustain and protect between 1000 and 1200 jobs throughout the UK.
"The UK MoD's selection of a vehicle for the LPPV programme is being closely followed by several countries, underlining the considerable export potential for a vehicle in this class", said Nick Ames.
The SPV400 Series
The SPV400's modular design optimises survivability and mobility within the LPPV specification for a 7.5 ton vehicle carrying a crew of six (2 +4).
The SPV400 has an armoured steel V-shaped hull that deflects the blast away from the crew pod which is blast and ballistic protected using the latest composite and ceramic armour systems. The crew pod is constructed as a separate module, sealed off from potential secondary projectiles, such as kit and electronic devices, which are housed in a rear compartment. All seats are mine blast protected.
Additional protection is provided by the front and rear axles, which are mounted on detachable `sacrificial` sub-frames to absorb and deflect a blast away from the crew pod if a wheel strikes an explosive device. To enable this approach, the engine and transmission are separated to ensure the crew pod is not impacted should the front sub-frame detach. This modular approach also enables rapid in-theatre repair should a vehicle be involved in an incident. The affected module(s) can be quickly replaced enhancing the availability and maintainability of deployed platforms.
The SPV400's speed and all terrain mobility is comparable to Jackal and it is capable of 80mph on desert plain. Air suspension provides troops with a smooth ride, reducing crew fatigue, and the manoeuvrability has been optimised to allow troops to operate in the tightest of terrain.
SPV400 Series Programme Status
The first SPV 400 prototype was subjected in December 2009 to two days of blast trials, which included a 'significant' under vehicle mine blast simulation as well as a "huge" Vehicle Borne Improvised Explosive Device (VBIED) simulation. The second and third SPV400 prototypes were completed at Supacat's Dunkswell, Devon, facility in January 2010 and following initial company trials are participating in the UK MoD's full trials programme. A further two prototypes are being completed with one due to undergo further blast tests.
Supacat
14.04.2010

Share...





Raytheon, Rheinmetall form joint venture for US Army combat vehicle competition
02.10.2019
Supacat, Rheinmetall and SCISYS partnership showcases new High Mobility Integrated Fires Capability
12.09.2019
UK company pioneers autonomous hybrid vehicle for extreme off road operations
12.09.2019
Raytheon, Rheinmetall join forces for US Army's Next-Gen Combat Vehicle competition
14.10.2018
LAV-25 Coyote (Reconnaissance Vehicle)
HMT 600 Coyote (Patrol Vehicle)
Discuss