Elbit Systems of America Announces Successful Installation and Transition of First Fire Control Systems to the U.S. Army
Category: Defence Industry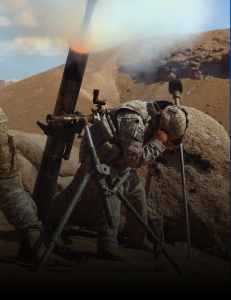 FORT WORTH -- Elbit Systems of America, LLC, a wholly owned subsidiary of Elbit Systems Ltd. announced the successful installation and handoff of the first production units of the M150/M151 Mortar Fire Control System – Dismounted (MFCS-D) to the U.S. Army.
The initial installations of the MFCS-D kits were performed in April 2010 at the 3rd Infantry Brigade Combat Team (IBCT), 25th Infantry Division. These installation kits consist of ruggedized computers, battery power supplies, displays, navigation and pointing hardware, and associated mounting hardware and cabling that are installed with the M326 Mortar Stowage Kit in the M1101 light tactical trailer. The M150/M151 MFCS-D system will greatly enhance the accuracy of the M120A1 120mm Towed Mortar System; enable the digital coordination of multiple systems and Fire Support network; and significantly reduce the time required to emplace, fire and displace the weapon. This not only increases the accuracy of the weapon in the battlefield, but also sharply reduces the amount of time in which our forces are potentially exposed to return enemy fire.
Elbit Systems of America was awarded a systems integration contract in April 2009 to take an innovative U.S. Army designed fire control system for the 120mm towed mortar and manufacture, procure and integrate all of the components into a complete kit and install these kits at both CONUS and OCONUS locations. Since contract award, Elbit Systems of America has worked closely with representatives of the U.S. Army Product Manager for Mortar Systems and RDECOM-ARDEC located at Picatinny Arsenal in New Jersey to refine the final system design for production and delivery.
Elbit Systems of America, President and Chief Executive Officer, Raanan Horowitz commented, "The first delivery and installation of the mortar fire control system was accomplished on-time and on-budget through a collaborative effort with our U.S. Army customer. We are pleased to be able to play a key role in transitioning this cutting edge technology to the soldiers in the field."
Elbit Systems
25.05.2010

Share...





KMW set to modernise 101 German Leopard 2 main battle
22.04.2019
DALO Contracts Systematic To Enhance Artillery System Combat Effectiveness
17.07.2018
Otokar debuts its Light Tank in Paris
19.06.2018
Expal Presents a New Configuration of the EIMOS 81 MM Mortar System Integrated in a 4x4 Vehicle
18.06.2018
Lockheed Martin Missiles and Fire Control
Discuss