BAE Systems Awarded $23 Million For Work On Bradley and M113 Vehicles
Category: Defence Industry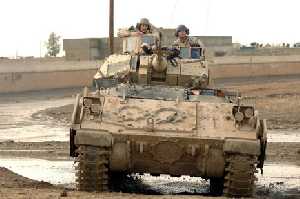 ARLINGTON, Virginia -- BAE Systems has been awarded $23 million in various contract modifications for work on the Bradley and M113 vehicles.
"The recent Bradley and M113 awards will help to ensure that these proven vehicles will continue supporting out troops for years to come," said Joe McCarthy, vice president and general manager of the Heavy Brigade Combat Team at BAE Systems. "Both platforms have a long history of effectively performing for our men and women in uniform during combat missions overseas and play key roles on the Heavy Brigade Combat Team."
This contract has a variety of work directives, including the installation of Bradley Urban Survivability Kits (BUSK) III, which include a series of rapid development survivability improvements specifically designed for today's urban battlefield. Some of the new developments under BUSK III include:
Emergency egress improvements to allow soldiers to lower the ramp on the vehicle
Advanced survivability seat to provide energy absorbing seats and foot rests
A turret advanced survivability system to provide enhanced protection against IEDs for the gunner and commander positions
Other work directives under this contract include Bradley field service support, and integration of the mission support system (MSS) for the M113A3 ambulance.
This work demonstrates how BAE Systems' support and service capabilities are meeting the current and future requirements to protect troops during combat missions.
Bradley Combat Systems continue to provide outstanding survivability, mobility and lethality to U.S. soldiers in close-combat urban situation as well as in open-combat. The Bradley fulfills five critical mission roles – infantry fighting vehicle, cavalry fighting vehicle, fire support vehicle, battle command vehicle an engineer squad vehicle – for the Army's Heavy Brigade Combat Teams.
The M113 is part of the largest family of armored tracked vehicles in the world and includes more than 80,000 vehicles worldwide with 40 variants. It can transport 12 troops plus a driver and is capable of extended cross-country travel over rough terrain and high-speed operation on improved roads and highways.
BAE Systems designs, manufactures and supports Bradley Combat Systems and the M113 through its U.S. Combat Systems business. U.S. Combat Systems is a modern, efficient, full-spectrum developer, integrator and supplier of survivable, lethal ground and naval combat platforms. U.S. Combat Systems is also a main supplier to the U.S. Army's Heavy Brigade Combat Teams, an integral developer of mine-protected and future combat vehicles and a top producer of naval guns and missile launchers.
BAE Systems
06.08.2010

Share...





BAE Systems` CV90 increases lethality by testing SPIKE LR anti-tank guided missile
14.01.2020
U.S. Marine Corps orders more Amphibious Combat Vehicles
11.11.2019
RAVEN Countermeasure System protects vehicles from missile threats
15.10.2019
BAE Systems unveils Robotic Technology Demonstrator Vehicle at AUSA
15.10.2019
BAE Systems Land Systems Hagglunds AB
BAE SYSTEMS Advanced Technology Centre
BAE SYSTEMS Customer Solutions & Support Land & Sea
BAE SYSTEMS Operational Training
BAE SYSTEMS RO Defence Small Arms Ammunition Division
BAE Systems North America, Land & Information Systems
Bradley M2/M3 (Infantry fighting vehicle)
M113 (Modernization of the vehicle)
M113 (Modernization of the vehicle)
M113 (Modernization of the vehicle)
M113 AS3 (Modernization of the vehicle)
M113 (Tracked armoured personnel carrier)
M113 (Modernization of the vehicle)
Bradley M2A3/M3A3 (Infantry fighting vehicle)
Bradley M6 Linebacker (Anti-aircraft system)
Bradley M2A3 (Modernization of the vehicle)
Bradley M7 (Observation Post Vehicle)
M113 VADS (Anti-aircraft system)
m113 (Armoured vehicle-launched bridge)
M113 C+R (Reconnaissance Vehicle)
Bradley M2A1/M3A1 (Infantry fighting vehicle)
Bradley M2A2/M3A2 (Infantry fighting vehicle)
M113 (Modernization of the vehicle)
Bradley M2A3 IBAS (Modernization of the vehicle)
M113 (Self-propelled antitank guided missile system)
M113 HVMS (Fire support vehicle)
Bradley AMTV (Ambulance vehicle)
Bradley AMEV (Ambulance vehicle)
Bradley BMV (Self-propelled mortar)
Discuss