Patria`s Nemo Mortar System Selected for Canadian LAV II Vehicles
Category: Defence Industry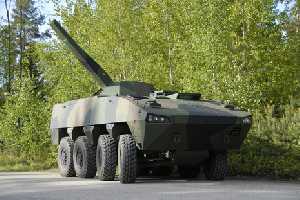 Patria Nemo 120 mm mortar system has been selected as weaponry for LAV II vehicles delivered by General Dynamics Land Systems - Canada as an FMS project by the US Government.
Patria and Mecar S.A. from Belgium have signed a Memorandum of Understanding for an undisclosed number of Patria Nemo systems.
Patria is the global market leader in turreted mortar systems. Patria Nemo is a 120 mm remote controlled mortar turret, offering excellent signature management and ballistic protection as well as providing both direct and indirect fire support. Patria Nemo system has been earlier selected by the Slovenian Armed Forces and the United Arab Emirates Navy.
Patria
02.09.2010

Share...





KONGSBERG CONCLUDES A $ 54 MILLION CONTRACT FOR THE DELIVERY WEAPON STATIONS TO CANADIAN ARMY
05.06.2020
Milrem Signs Contract for the Latvian BV206 Maintenance
25.04.2019
Eurosatory 2018: Patria 6X6 - Multifunctional transport capacity far into the future
12.06.2018
BAE Systems and Milrem LCM Sign Maintenance Support Contract for Estonian CV90s
19.04.2018
Nemo Container (Self-propelled mortar)
Discuss