Navistar Defense to Produce Additional U.K. Tactical Support Vehicles
Category: Contracts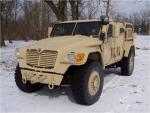 WARRENVILLE, Ill. -- Navistar Defense, LLC today announced that it received a second delivery order valued at $56 million from the U.K. Ministry of Defence for an additional 89 International® MXT™ Husky vehicles.
The award follows the company's April 2009 contract for 262 MXT Husky units for the U.K. Tactical Support Vehicle (TSV) program. All units will be utility variants.
"MXT Husky units are currently supporting missions in Afghanistan and the Ministry of Defence has placed priority on getting these additional vehicles into theater," said Archie Massicotte, president, Navistar Defense. "Improvised explosive devices continue to threaten coalition forces and the MXT provides the protection and the mobility warfighters need to complete missions safely."
The Husky is the medium variant for the TSV program and accommodates a four-person crew. The vehicle is equipped with a MaxxForce® D 6.0 L V8 engine, Allison five-speed automatic transmission and also incorporates Plasan Sasa's armoring solution.
Deliveries are scheduled to begin at the end of October 2010 and will be completed in early 2011.
Navistar
08.09.2010

Share...





Navistar Defense Awarded $18.8 Million To Provide Medium Tactical Vehicles For Iraq
17.06.2017
Navistar Defense Awarded $475 Million To Support Allied Forces MRAP Requirements
11.03.2017
Navistar Displays Latest MaxxPro MRAP and Medium Tactical Vehicle
13.10.2015
OSG Reveals the Front Line of Transparent Armor Technologies at DSEI 2013
10.09.2013
Husky (Repair and recovery vehicle)
Husky (Robot, Unmanned Vehicle)
Discuss