Force Protection Europe is preferred bidder for LPPV
Category: Defence Industry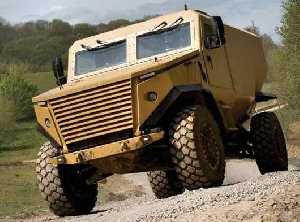 Ocelot - selected as pereferred bidder for UK MoD LPPV programmeDesigned, developed and built in the UK by Force Protection Europe and Ricardo plc, together with Team Ocelot partners Thales, QinetiQ, Formaplex, DSG and Sula, Ocelot is weight for weight, the best protected and most agile vehicle of its kind – capabilities that have been proved by more than 12 months of blast and mobility testing.
A clean sheet design, Ocelot has met the MoD's targets for protection, manoeuvrability, payload, size and gross vehicle weight. It is also extremely flexible, featuring a demountable crew pod that allows multiple configurations for different roles, such as patrol, fire support and protected logistics.
While protecting crew within the vehicle has always been the first priority, Ocelot has also been designed from the outset to be easily repaired and maintained in the austere environment of a forward operating base. Its armoured V-shaped hull runs the length of the vehicle and houses the main fuel tank, drive line, batteries and generator as well as the powerpack; this means these vital components are all protected from potential blasts. Not only will this design reduce repair times and costs, because the Ocelot does not include sacrificial elements as part of its protection package, but crucially it also enhances the availability of vehicles for operations in-theatre. The MoD's emerging open standards for Generic Vehicle Architecture have been taken into account throughout the vehicle's development; Ocelot is fully compliant with these and has also been developed to support future integration projects with ease.
David Hind, Managing Director, Force Protection Europe, said, 'This is excellent news for UK servicemen and women, and for the UK defence industry. Ocelot has been designed and developed in the UK from first principles, with our Team Ocelot partners, to save lives, protect against injury and to optimise maintenance and reparability. We are very proud that, subject to the outcome of satisfactory contract negotiations, the MoD has recognised the innovation, skill and commitment that has been put into Ocelot's development and the trust they have placed in Force Protection Europe. Ocelot meets a global demand for a radically new light protected patrol vehicle. This initial vote of confidence by the UK MoD will send a significant signal to other potential customers.'
Dave Shemmans, CEO of Ricardo plc said, 'We are delighted that Force Protection Europe and Team Ocelot have been selected as the preferred bidder for this vitally important UK defence programme. We are also very proud of the key role Ricardo's automotive design expertise has played in creating this truly exceptional vehicle.'
Force Protection
22.09.2010

Share...





Rheinmetall MAN Survivor R special protected vehicle on show at GPEC 2020 international security exhibition in Frankfurt/Main
24.02.2020
The Dutch armed forces select Rheinmetall to modernize their Bergepanzer 3 Büffel
17.05.2019
BAE Systems awarded Armored Multi-Purpose Vehicle contract modifications by U.S. Army for Low-Rate Initial Production
24.02.2019
Rheinmetall Mission Master Dominates European Ground Robotic Systems Competition at ELROB 2018
04.11.2018
Ocelot LPPV/Foxhound (Mine protected carrier)
Discuss