BAE Systems Improving Soldier Protection Through U.S. Army Vehicle Armor Contract
Category: Contracts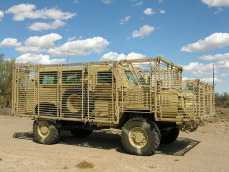 AUSTIN, Texas -- BAE Systems has received an $11 million U.S. Army contract to produce bar armor kits that protect soldiers in ground vehicles from rocket-propelled grenade attacks.
The company will continue to produce L-RODŽ bar armor kits for the U.S. Army TACOM Life Cycle Management Command's RG-31 Mine-Resistant Ambush-Protected vehicles.
Last November, BAE Systems received a $42 million contract for the bar armor kits. This latest award is for 390 kits and field service support outside the U.S.
Developed to provide RPG protection for Hummers and MRAP mine-resistant vehicles, L-ROD bar armor is a lightweight, modular bar-armor system made of an aluminium alloy. L-ROD provides protection against rocket-propelled grenades, or RPGs, with minimum impact to operational capabilities.
L-ROD has become standard equipment on the Army's MRAP Class III Buffalo explosive ordnance disposal vehicles.
"We've delivered more than 2,500 total kits to date, and now, more are on the way," said Neil Piscitelli, L-ROD director for BAE Systems in Austin, Texas. "The L-Rod kits have demonstrated value by helping to protect troops on the battlefield and save lives."
Weighing less than half of comparable steel designs, the low-cost L-ROD system bolts onto the vehicle without welding or cutting and can be repaired easily in the field due to its modular design. BAE Systems manufactures the L-ROD bar armor kits on an automated production line in Austin that opened last year.
L-ROD can also be found on Marine Corps Buffalo vehicles, MRAP Category I and II Cougar MRAPS, as well as the MRAP Category I RG-31. BAE Systems is also working on L-ROD variants for other MRAP-type vehicles as requested, and has provided the kits to NATO allies for use on their vehicles in theater.
BAE Systems
22.10.2010

Share...





BAE Systems` CV90 increases lethality by testing SPIKE LR anti-tank guided missile
14.01.2020
U.S. Marine Corps orders more Amphibious Combat Vehicles
11.11.2019
RAVEN Countermeasure System protects vehicles from missile threats
15.10.2019
BAE Systems unveils Robotic Technology Demonstrator Vehicle at AUSA
15.10.2019
BAE Systems Land Systems Hagglunds AB
BAE SYSTEMS Advanced Technology Centre
BAE SYSTEMS Customer Solutions & Support Land & Sea
BAE SYSTEMS Operational Training
BAE SYSTEMS RO Defence Small Arms Ammunition Division
BAE Systems North America, Land & Information Systems
Discuss