Minister for International Security Strategy dispatches two Ocelots for trials Down Under
Category: Defence Industry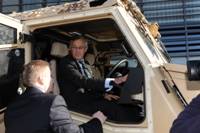 UK Minister for International Security Strategy, Gerald Howarth, visits Ricardo
Gerald Howarth MP, UK Minister for International Security Strategy, today had the first viewing of the utility and command variants of Force Protection Europe's Ocelot, as they were being prepared for transportation to Australia.
During a visit to the Ricardo engineering facility in Shoreham, where the two variants have been manufactured, the Minister was given a full briefing on both vehicles' capabilities. Every Ocelot has a v-shaped spine running the length of the vehicle, which protects the occupants and also its critical components from mine and blast threats. On top of the v-spine is an integrated pod which can be configured for a variety of mission roles such as the utility and command variants (required for the Land 121 programme); protected patrol variant (UK's Foxhound LPPV); and the special weapons variant (PV funded by FPE).
UK Minister for International Security Strategy, Gerald Howarth, visits RicardoForce Protection Europe's contract winning light protected patrol vehicle, Ocelot, is also appearing at this year's International Armoured Vehicles exhibition which takes place on 8 - 9 February at ExCeL in London. This will be the first time that the protected patrol vehicle variant has been on public view since Force Protection Europe was awarded a contract last November to supply the UK MoD with 200 of the vehicles.
Ocelot has been hailed as the most highly protected and agile vehicle of its size and weight available on today's market. The brainchild of survivability specialist Force Protection Europe and automotive specialist Ricardo plc, the vehicle is being built in Ricardo's manufacturing facility.
UK Minister for International Security Strategy, Gerald Howarth, visits RicardoThe Minister said: "The Ocelot is a testament to British design and engineering skills. It has already been selected by the UK Government for our Light Protected Patrol Vehicle programme as it offers unparalleled levels of protection for a vehicle of its size and weight, with exceptional performance both on and off road. I believe the Ocelot has the qualities which other Armies require to meet today's operational challenges, and I wish the team every success in exporting this excellent vehicle."
David Hind, Managing Director of Force Protection Europe, said: "Today's Ocelot is clearly demonstrating its outstanding versatility with the unveiling of two new pod variants designed for very different roles. One of the most attractive aspects of the vehicle, on top of its survivability levels which protect the crew and mission systems, is its unique modular construction which means that pods can easily be changed in theatre to suit the requirements of each mission. I am delighted that we are able to share this outstanding achievement with Ricardo plc, where we have also chosen to place the manufacturing of the Foxhound."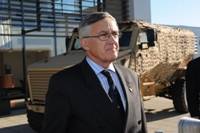 Martin Fausset, Managing Director of Ricardo UK, added: "I am pleased to welcome Gerald Howarth to Ricardo to preview the two Ocelots shortly to be exported for the Australian Land 121 programme and to meet the teams responsible for the design and development of this highly advanced vehicle concept which offers unparalleled standards of performance, adaptability and crew protection. We are extremely pleased to be working with Force Protection Europe to develop further opportunities for this truly class-leading vehicle on a global basis."
Sergyi Way
09.02.2011



www.army-guide.com
Share...





Rheinmetall MAN Survivor R special protected vehicle on show at GPEC 2020 international security exhibition in Frankfurt/Main
24.02.2020
The Dutch armed forces select Rheinmetall to modernize their Bergepanzer 3 Büffel
17.05.2019
BAE Systems awarded Armored Multi-Purpose Vehicle contract modifications by U.S. Army for Low-Rate Initial Production
24.02.2019
Rheinmetall Mission Master Dominates European Ground Robotic Systems Competition at ELROB 2018
04.11.2018
Ocelot LPPV/Foxhound (Mine protected carrier)
Discuss