Harris Receives Order from Australian DoD
Category: Contracts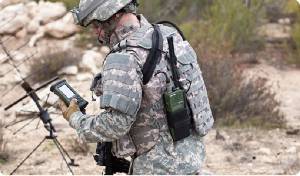 Melbourne, FL/Rochester, NY -- Harris Corporation, an international communications and information technology company, has received an $11 million order from the Australia Department of Defence (DoD) for Falcon III(r) tactical radios as part of a networked battlefield communications system in Army vehicles.
Harris is supplying the Australian DoD with Falcon III(r) RF-152(C) handheld radios along with RF-300M Trimline Vehicular Adapters for installation into a variety of Army vehicles including Army Bushmaster protected mobility vehicles. The Harris equipment provides interoperable tactical voice and data communications for both ground-to-ground and ground-to-air applications.
"The AN/PRC-152(C) handheld and vehicular radio system links vehicles and soldiers into the larger battlefield network, enabling seamless communications while on the move,' said Andy Start, president, international business unit, Harris RF Communications.
The combat-proven AN/PRC-152(C) is the most-widely deployed JTRS-approved handheld radio, with more than 150,000 units deployed worldwide. The radio system is an important part of the integrated Battlespace Communications System to meet ADF's objectives, including networking the Adaptive Army.
The Falcon III(r) RF-300M-TV Trimline Vehicular Amplifier (TVA) is a low-profile, single-channel power amplifier, with a single AN/PRC-152(C) serving as the dismountable handheld transceiver. The TVA is streamlined to fit into vehicles where space is at a premium. Providing increased communications reliability in long-range applications, the TVA supplies 50 watts from 30 to 90 MHz, 20 watts 90 to 512 MHz, and 50 watts for satellite communications. Separate VHF, UHF, and SATCOM ports with automatic port switching allow users to switch between ground, ground-to-air, or SATCOM communications by simply selecting the required network on the radio.
Harris
15.03.2011

Share...





SMEs collaborate to develop thermal signature defence solution
16.07.2019
EOS launches new ultra light R150
08.09.2018
Australia Orders 211 Boxer Wheeled Armoured Vehicles
17.08.2018
Leonardo DRS Battle Management Hardware Successfully Supports Australian Tanks During Combat Exercise
27.07.2018
Australian Defence Business Review
Discuss