At Defense And Security 2005 3 rd International Exibition Of Defense And Security Technology
Category: Exhibitions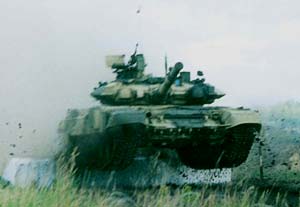 Rosoboronexport State Corporation (SC) is an organizer of Defense and Security 2005 – 3 rd International Exhibition of Defense and Security Technology, which will be held in Nizhniy Tagil on the basis of the State Demonstration and Exhibition Center of Armament and Materiel from 5 th to 9 th of July 2005.
The Exhibition will demonstrate achievements of national defense industry in the sphere of development and production of local and integrated systems of emergencies monitoring and forecasting, elimination of after-effects of ecological and man-caused catastrophes, and antiterrorist and law enforcement aids.
Remained instability in the world, existing threats of terrorist acts commitment and risks of emergencies are turning the topic profile of this Exhibition and accordingly foreign economic activity of Rosoboronexport SC in the segment of special technical aids and security systems, into a priority area of defense technological cooperation with foreign nations.
In this regard Rosoboronexport SC observes with satisfaction that higher interest in the Exhibition is demonstrated on the part of foreign military attaches, experts and representatives of potential customers.
There is no doubt that attention of foreign visitors will be captured by products of such enterprises – manufacturers of special devices as Rekord Alexandrovsky Research & Design Institute of Television Equipment, Elektropribor Production Association, Research and Design Institute of Applied Chemistry and Eleron Research and Production Association. In Nizhniy Tagil they represent a wide nomenclature of protection and security devices, radio wave and radio technical detection means, information cryptographic protection systems, radio wave devices and radio communication system of sentinels security.
The stand of Rosoboronexport SC will display a number of perspective export samples for antiterrorist activity. Among these are Fort-Technology body armor, SV-1312 disintegrator of explosive assemblies, SV-1324 hydro gun for disintegration of explosive assemblies, SV-131 door opening kit and other items.
Models of special aircraft exhibited by Rosoboronexport SC can also be of interest for foreign participants. These comprise Be-200 unique multipurpose amphibious aircraft, offered in fire-fighting, passenger, cargo, patrol, search and rescue and medical versions, AN-38 aircraft, AN-3T multipurpose transport aircraft, AN-74 multipurpose aircraft and Ka -226 helicopter.
Rosoboronexport SC is viewing Defense and Security 2005 Exhibition as an important step for deepening further interaction with export-oriented enterprises of Ural Region, primarily SUE Uralvagonzavod Production Association , FSUE Uraltransmash, FSUE Ural Optical Mechanical Factory Production Association and OJSC Motovilikhinskye Works.
Rosoboronexport SC also uses participation in the exhibition as a tool to bring attention to core nomenclature of exported products.
Specialists will receive exhaustive information about combat capabilities of more than 40 samples of state-of-the-art and modernized military equipment. Among them are T-90S, T-80UK, T-72 tanks and engineering vehicles on their base, modernized BTR-60PB and BTR-70 armored personnel carriers and modernized 152mm and 155mm caliber MSTA-S modernized self-propelled howitzer. The stand offers a traditionally wide range of small arms and close combat systems : 5.56mm Kalashnikov ÀÊ-101 submachine gun, 5.45mm ÀÊ-102 submachine gun, 7.62mm Kalashnikov AKSU-74 submachine gun, 5.56mm Pecheneg 6P41 machine gun with improved penetration bullets (ind. RS101), 9mm PYa Yarygin autoloading pistol (ind. 6P35), 12.7mm KORD 6P49 tank machine gun.
The immediate Defense and Security 2005 Exhibition will undoubtedly become an important marketing event that will materially complement a package of measures, implemented by Rosoboronexport SC, on improvement of export potential of national defense industry and rising international reputation of Russian weaponry.
Rosoboronexport
25.07.2005

Share...





ARMATA MBT - problems 2020
24.12.2020
Problems of Russian land military vehicles with diesel engines
24.12.2020
Problems of Russian Vacuum APFSDS-T projectile
25.01.2019
BMPT Terminator will receive a remote blasting ammunition
07.06.2018
JSC Research and production corporation UralVagonZavod
ROSOBORONEXPORT, State Corporation
Discuss