KMW delivers first rocket launcher MARS II to German artillery school
Category: Defence Industry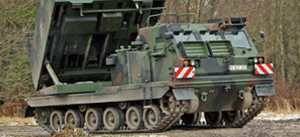 Idar-Oberstein -- In the presence of the vice president of the Federal Office for Defence Technology and Procurement, Reinhard Schütte, the artillery school in Idar Oberstein, Germany, received its first MARS II rocket launching system in the Guided Multiple-Launch Rocket System (GMLRS) edition.
Krauss-Maffei Wegmann (KMW) thereby delivered a fully modernised combat system with an increased combat efficacy just 2¼ years after the signing of the pre-series-contract in December 2008.
"With the rocket launcher MARS II and the guided artillery rocket GMLRS UNITARY we now have an efficient means with the necessary precision and outstanding range, which finally allows us to complete the tasks assigned to us under almost any condition and that with the desired effect.", said Brigadier General Heribert Hupka, commander of the artillery school and General of the artillery troops in Germany.
Highest performance for the mission
More than 2.300 implemented new parts, 300 metres of integrated wiring per vehicle for a fully electric drive and a quality inspection covering more than 450 hours per launching system are not only stand for a guaranteed sustainability, but also ensure an unmatched functionality and targeting precision on missions. The rocket launcher MARS II with the guided artillery rocket GMLRS UNITARY thereby offers a device that combines highest precision and maximum range. With the delivery of the first rocket launcher the schooling will commence immediately at the artillery school. After the completion of final tests within the scope of a field test the system is due for compliance testing next month at the White Sands Missile Range in the southern USA
MARS II – a success story in artillery
The rocket launcher MARS is in service with the artillery troop for over 25 years now. Conceptualised and optimised for the combating of large surface area targets under cold war circumstances, it was adapted to the considerably changed requirements of current as well as future threat scenarios and subsequently upgraded. Today, it takes effect on targets faster and more accurately than ever before – and will be an efficient partner in general or functional gunfights in future conflict scenarios within the framework of network-centric warfare.
KMW
10.04.2011

Share...





Multimillion-euro order from Hungary
02.10.2019
Krauss-Maffei Wegmann supports the modernization of the Hungarian Army
22.12.2018
Rheinmetall ships 200th Puma IFV to the Bundeswehr
05.06.2018
Nexter and Texelis win the lightweight VBMR contract
13.02.2018
Krauss-Maffei Wegmann GmbH & Co.KG - KMW
MLRS/MARS (Multiple rocket launcher)
MARS-V (Reconnaissance Vehicle)
GMLRS (Multiple rocket launcher)
MARS (Robot, Unmanned Vehicle)
MARS-15 (Fire support vehicle)
MARS A-800 (Robot, Unmanned Vehicle)
Discuss