German Army Orders 39 Additional DINGO 2 Armoured Patrol Vehicles
Category: Defence Industry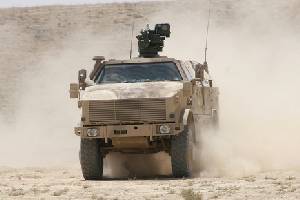 Munich/Koblenz -- Krauss-Maffei Wegmann (KMW) has received an order for the assembly and delivery of 39 DINGO 2 in its most modern version, the DINGO 2 GE from the Federal Office for Defence and Procurement (BWB) in Koblenz.
The vice president of the BWB, Reinhard Schütte, and KMW COO Jürgen Weber, signed a corresponding contract in Koblenz today. KMW will deliver the vehicles to the army by November 2011. Shortly after they will be at the disposal of the Bundeswehr in Afghanistan. "With a repeated order such as this one, the German Army emphasizes its trust in Krauss-Maffei Wegmann as a trustworthy partner which reacts quickly, flexibly and reliably to the demands of its customers.", said Jürgen Weber after the signing of the contract.
Meanwhile, almost 1000 DINGOs in different versions, from ambulances over NBC reconnaissance vehicles and mobile command posts to reconnaissance and patrol vehicles, are in service with six European nations. The high level of protection has proven its worth during numerous terrorist assaults and has steadily protected the lives of the crew. The vehicles ordered offer the soldiers of the German Army the best protection available as well as highest mobility and vehicle payload, even under extreme conditions. In order to be able to respond quickly and flexibly to changed demands on missions, the DINGO 2 will also come equipped with a light remote weapon station (RWS) of the type FLW 100/FLW 200. The vehicle crew is thereby capable of operating the weapon station precisely and effectively from within the protected interior of the vehicle, even at high speeds or in rough terrain. An exterior identifying feature of the recently ordered DINGOs is the new hardtop at the rear of the vehicle, which replaces the common canvas cover of the storage space.
KMW
13.04.2011

Share...





Germany awards 159 MUSD vehicle contract to GDELS
24.04.2020
Rheinmetall books ˆ110 million-contract to extend the service life of the Marder infantry fighting vehicle for the Bundeswehr
21.01.2020
Denmark and Germany receive the latest versions of the LEOPARD 2
07.11.2019
Rheinmetall Presents Next Gen "Wiesel Wingman" solution for Robotic Combat Vehicle – Light at AUSA 2019
04.11.2019
Krauss-Maffei Wegmann GmbH & Co.KG - KMW
DINGO 2 (Wheeled armoured personnel carrier)
DINGO 2 (Repair and recovery vehicle)
DINGO 2 GSI (Repair and recovery vehicle)
DINGO 2 GSR (Reconnaissance Vehicle)
DINGO 2 HD (Wheeled armoured personnel carrier)
Discuss