Jenoptik wins another major order worth more than 30 million euros for the new PUMA infantry fighting vehicle.
Category: Contracts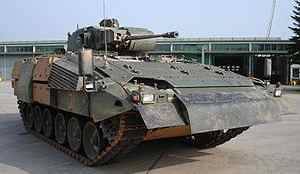 Krauss-Maffei Wegmann is placing an order for the supply of nearly 400 GTdrive systems (weapons stabilization systems). Jenoptik`s total share of the PUMA project now exceeds 70 million euros.
The order for GTdrive systems from Krauss-Maffei Wegmann has significantly increased Jenoptik's supply package for the new PUMA infantry fighting vehicle for the German Army. At the beginning of this year Jenoptik had announced the order to supply starters/generators as well as other key electrical subsystems for the PUMA worth a total of nearly 40 million euros. Jenoptik's share of the project now exceeds 70 million euros and will contribute to the sales of the Defense & Civil Systems division through to the year 2020.
The figure of 70 million euros does not include after-sales and maintenance services throughout the entire deployment period for the PUMA infantry fighting vehicle; these services will be ordered and billed separately over and above the volume deliveries.
Jenoptik received the current order in September 2011 from its development and project partner, Krauss-Maffei Wegmann GmbH & Co. KG. It includes the electrical turret-weapons stabilization system GTdrive. The decades of experience and resultant know-how which the Defense & Civil Systems division has accumulated with its turret-weapons-drive and stabilization technologies, both during simulations and in subsequent use in various heavy armored vehicles, has been successfully transferred to the stabilization of a smaller turret and weapons caliber on the PUMA infantry fighting vehicle.
In Germany Jenoptik is one of the key suppliers of subsystems and components to the defense industry. The Defense & Civil Systems division focuses on the areas of vehicle and aircraft equipment, drive and stabilization technology, optoelectronic instruments and systems for the defense and security industry, software, testing and control systems plus a comprehensive range of services. In the military land vehicles area the Jenoptik Group has a successful track record, extending back over decades, in supplying part systems and components for vehicle platforms to leading systems companies. Examples of these are the Leopard II battle tank, the PzH 2000 self-propelled howitzer and the Boxer.
Jenoptik
05.10.2011

Share...





Rheinmetall books ˆ110 million-contract to extend the service life of the Marder infantry fighting vehicle for the Bundeswehr
21.01.2020
Multimillion-euro order from Hungary
02.10.2019
Rheinmetall modernizing Puma infantry fighting vehicle and other equipment for NATO spearhead VJTF 2023
25.07.2019
Krauss-Maffei Wegmann supports the modernization of the Hungarian Army
22.12.2018
Krauss-Maffei Wegmann GmbH & Co.KG - KMW
Jenoptik Defense & Civil Systems
Puma 4x4 (Reconnaissance Vehicle)
Puma 6x6 (Wheeled armoured personnel carrier)
BWP-1M Puma (Infantry fighting vehicle)
Puma (Infantry fighting vehicle)
Puma M26 (Mine protected carrier)
Puma M36 (Mine protected carrier)
Discuss