DRS Technologies Awarded $24 Million Contract To Produce Infrared Assemblies For Javelin Missile Command Launch Unit
Category: Defence Industry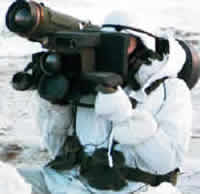 Parsippany, NJ, August 23 -- DRS Technologies, Inc. announced that it has received a $24 million production contract on the Javelin Anti-Tank Weapon System program. Javelin is the worldís premier man-portable, fire-and-forget, medium-range, anti-tank weapon system.
It is utilized by U.S. Army and Marine Corps combat units and also is approved through the U.S. Armyís Foreign Military Sales (FMS) program for international procurement.
The contract was awarded by Raytheon Missile Systems Company, a unit of Raytheon Company (NYSE: RTN), located in Tucson, Arizona. For this award, the fifth order under a multi-year contract, the companyís DRS Infrared Technologies unit in Dallas, Texas will produce Second Generation Forward Looking Infrared (2nd Gen FLIR) Integrated Dewar Cooler Assemblies (IDCAs) for the Javelinís Command Launch Unit (CLU). Deliveries of more than 1,200 CLUs are expected to begin in early 2006 and continue through June 2007. Additional orders on this program are anticipated by the company.
"Javelin is a proven, revolutionary, superior ground combat weapon system, providing the highest levels of performance, effectiveness and survivability for our ground forces," said Fred L. Marion, president of DRSís Surveillance and Reconnaissance Group. "Our highly sensitive infrared IDCAs are key components supporting the Javelinís targeting and fire-and-forget capabilities. An important program for DRS, Javelin supports our reputation as a supplier of choice for critical, multi-year programs requiring Second Generation infrared components and assemblies."
DRS has delivered over 5,000 2nd Gen FLIR components and assemblies for the Javelin since the programís inception and is the sole supplier of the IDCAs for the Javelinís CLU.
The Javelin missile system was developed by a joint venture between Raytheon Systems Company and Lockheed Martin Missiles and Fire Control, a unit of Lockheed Martin Corporation (NYSE: LMT). It replaces the aging, wire-guided Dragon missile in ranger and special operations units, infantry and engineer battalions, and armored Scout platoons. Javelin supports the Armyís transformation efforts, including current and future forces, by enabling a single soldier to defeat any armored vehicle. It has more than twice the range of earlier man-portable anti-tank weapons and uses DRSís critical 2nd Gen FLIR technology to target threats during the day or night. DRSís detection and Dewar assembly contains the highly sensitive infrared focal plane array detector. The companyís patented, quieter, dual-opposed piston coolers eliminate the noise of earlier sights, thereby helping the user to remain concealed.
DRS Technologies
25.08.2005

Share...





Oshkosh FMTV A2 Makes Debut at Ausa 2018, Multiple JLTVS Command the Floor
14.10.2018
Kongsberg and Milrem Robotics Showcase a Robotic Antitank and HMG System at AUSA
14.10.2018
Patriaís latest technology featured at DSEI 2017
11.09.2017
Patria introduces new technology at IDEX 2017
06.02.2017
Protector Javelin (Remote controlled weapon station)
FGM-148 Javelin (Anti-tank guided missile launcher)
Discuss