Army sees 10,000 CROWS manufactured
Category: Army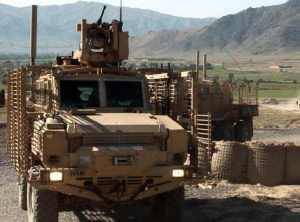 The Armyis marking the manufacture of the 10,000th M153 Common Remotely Operated Weapons Station, known as CROWS.
The CROWS system allows a weapon such as the M2 .50-caliber machine gun to be mounted atop a vehicle, such as the Humvee, and be targeted and fired remotely from inside the vehicle. This allows a Soldier operator to stay safely inside the vehicle.
Army officials from PEO Soldier, along with Pennsylvania Congressman Mark Critz and Norwegian Defense Attaché Rear Admiral Trond Grytting are attending a March 26 event at Kongsberg Protech Systems in Johnstown, Pa.
"The growth of this program can be primarily attributed to one thing -- Soldier demand," said Mary Miller, deputy PEO Soldier. "CROWS continues to prove itself as a significant force multiplier on the battlefield with tremendous opportunities for further development."
The Army has fielded thousands of CROWS II systems in support of Soldiers since 2007 across the theater of operations on more than a dozen vehicle platforms. The program reached a major milestone in February when the Army classified the CROWS program with ACAT I status, recognizing the CROWS among the elite levels of the DOD's major defense acquisition programs.
CROWS is a turret system that provides Soldiers the ability to employ cameras, sensors, and weapons from inside the protection of an armored vehicle. CROWS provides fire superiority for the Soldier as a result of its ability to turn "area weapons," such as the M2 .50 caliber machine gun into on-the-move precision engagement weapons.
The Army launched its third CROWS competition January 9. The new contract will enable the Army to procure additional CROWS systems; maintain current and new systems with repairs and spare parts; and secure engineering services needed for product improvements and field service support. The contract competition closed March 23 and the Army anticipates awarding a contract in the fall of 2012.
EXPANDING CROWS CAPABILITY
Program engineers and Soldiers alike continue to expand upon the range of applications possible for the CROWS platform. One example is the fielding of one of the Army's "Greatest Inventions" for 2010, the "Green Eyes" Escalation of Force Kit. The non-lethal green laser offers Soldiers an interim step in the escalation of force by temporarily disrupting vision and sending a warning signal across language and cultural barriers to keep innocent people from entering into harm's way.
The Army's product manager for crew served weapons incorporated Soldier feedback from an earlier operational assessment to improve the fit and function of a second generation of escalation of force kits.
Soldiers recently began to look for ways to leverage CROWS' target identification and day/night surveillance capabilities in support of force protection. Units requested fixed site mounting kits to install CROWS in guard towers to better monitor areas and target threats remotely from inside a protected structure. PM CSW began installing fixed sites in January 2012. Fielding teams plan to install systems at various combat outposts and forward operating bases throughout Afghanistan in 2012.
Other accessory upgrades of interest include a secondary screen to assist in verifying enemy combatants prior to engaging with lethal force, enhanced sensor capability, additional weapon integrations such as Javelin, and integrated 360-degree situational awareness.
The Maneuver Support Center of Excellence, which acts as the proponent for the CROWS program, is currently developing a new requirement that will determine what the future CROWS will provide in terms of capability and characteristics. The next chapter for CROWS will be written in the coming years as the proponent's new requirement is staffed, approved, and executed by PM CSW.
US Army
27.03.2012

Share...





QinetiQ and Pratt Miller Deliver First Robotic Combat Vehicle - Light to U.S. Army
02.02.2021
KONGSBERG CONCLUDES A $ 54 MILLION CONTRACT FOR THE DELIVERY WEAPON STATIONS TO CANADIAN ARMY
05.06.2020
CONTRACT TO DELIVER REMOTE WEAPONS STATIONS TO DENMARK WORTH 270 MNOK
11.12.2019
Rheinmetall Presents Next Gen "Wiesel Wingman" solution for Robotic Combat Vehicle – Light at AUSA 2019
04.11.2019
Kongsberg Defence & Aerospace AS
M151 Protector RWS (Remote controlled weapon station)
Protector Javelin (Remote controlled weapon station)
Protector Lite (Remote controlled weapon station)
M 153 Protector CROWS II (Remote controlled weapon station)
Protector (Wheeled armoured personnel carrier)
Protector MAV (Wheeled armoured personnel carrier)
Casspir Mk VI Protector (Mine protected carrier)
Protector Dual RWS (Remote controlled weapon station)
Protector Super Lite (Remote controlled weapon station)
PROTECTOR MCT-30 (Remote controlled weapon station)
Protector Nordic (Remote controlled weapon station)
Protector (Robot, Unmanned Vehicle)
CROWS-J (Remote controlled weapon station)
Discuss