Elbit Systems Awarded Initial Contract to Supply Advanced Dismounted Soldier Systems to the Finnish Army
Category: Contracts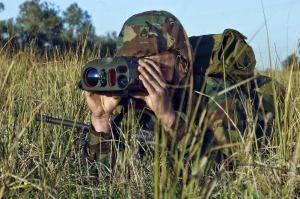 Haifa, Israel -- Elbit Systems Ltd. ("Elbit Systems") announced today that it was awarded a contract by the Finnish Army, to supply advanced dismounted soldier systems, in the first phase of a comprehensive ISTAR (Intelligence, Surveillance, Target Acquisition and Reconnaissance) program. The initial award is not in an amount that is material to Elbit Systems.
The solution offered by Elbit Systems includes enhanced observation soldier equipment (MARS), comprehensive situation awareness software, cutting edge combat soldier wearable radio (PNR1000) and computer systems intended to enhance the operational capabilities of the Finnish Army in the areas of reconnaissance, terrain dominance and dismounted soldiers. It will also support the Finnish Army in developing new combat   doctrines, and as a basis for developing its future forward observation program.
Bezhalel (Butzi) Machlis, General Manager of Elbit Systems' Land and C4I Division, commented: "We are proud that Finland, a NATO Partner of Peace, has selected our systems following a rigorous competition, including field testing  in Lapland. This win affirms yet again our leadership as a supplier of advanced  solutions for soldier systems."
Elbit Systems
28.05.2012

Share...





Milrem Signs Contract for the Latvian BV206 Maintenance
25.04.2019
General Dynamics European Land Systems presents a new variant of PIRANHA IFV at the HEMUS Exhibition 2018
04.06.2018
Elbit Systems of Australia Concludes Successful Delivery of Thermal Weapon Sights to ADF
14.05.2018
Nexter and Texelis win the lightweight VBMR contract
13.02.2018
Finnish Defence Equipment Manufactures Export Collaboration Group
Finnish Defence Forces Defence Staff, Materiel Division
Finnish Defence Forces Defence Staff, Technical Development Division
MLRS/MARS (Multiple rocket launcher)
MARS-V (Reconnaissance Vehicle)
MARS (Robot, Unmanned Vehicle)
MARS-15 (Fire support vehicle)
MARS A-800 (Robot, Unmanned Vehicle)
Discuss