Mercedes-Benz Special Chassis will release a FGA Component Kit and FGA 14.5 Special Chassis at Eurosatory 2012
Category: Exhibitions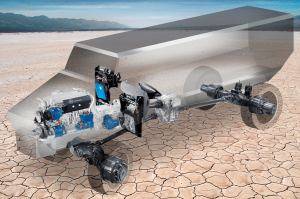 Mercedes-Benz Special Chassis, business unit of Mercedes-Benz, will release new FGA Component Kit and FGA 14.5 Special Chassis at Eurosatory 2012 (11 – 15 June 2012).
FGA Component Kit
The armoured monocoque wheeled vehicles used worldwide for demanding operations are extremely complex systems which have to be considered under both technical and economic points of view - in particular with regard to their research and development. First and foremost are the user's requirements as they provide the functional criteria for the system "vehicle" as a whole. When selecting and installing appropriate components it is essential to have know-how supplied by various specialised departments (for installing the vehicle, armoured and other systems) in order to come up to users' expectations regarding both costs and development. Here both the manufacturers of armoured troop carriers as well as armed forces worldwide are confronted with the following challenges:
The increasing complexity of the systems which have to be installed in extremely confined spaces
Dwindling defence budgets, which means that all current and new projects have to be reviewed
Obsolete fleets of vehicles, which were not designed for future operations and are therefore in need of modernisation
The increasing importance of reduced life-cycle costs
A guaranteed supply of spare parts and vehicle services for the entire life cycle of the vehicles
Regarding the choice of drivetrain concept, specialists ought to be involved from the very beginning in order to make sure that vehicle projects move in the right direction concerning aspects of development and costs both for the vehicle manufacturer and the final user.
The establishment of the new business unit "Special Chassis" is Mercedes-Benz Special Trucks' answer to altered market needs. Based on the time-tried Mercedes-Benz Truck modular assembly system, Mercedes-Benz Special Chassis is now providing an integral system solution for the entire vehicle with a "Component Kit" which is absolutely in tune with the requirements of modern vehicle manufacturers in the 21st century as well as coming up to the latest military and technical vehicle standards.
From Component Kit to entire vehicle - that means for Mercedes-Benz Special Chassis providing a complete package covered by contract, guaranteeing complete technical and commercial customer care from the system solution "Component Kit" right up to its installation - which thus contributes to improved planning predictability for both vehicle manufacturer and end customer.
This extremely flexible approach makes Mercedes-Benz Special Chassis not only a reliable development partner, but also the first choice when it comes to selecting a "Component Kit" system solution especially when it is combined with the Mercedes-Benz worldwide service and spare parts network which ensures best possible vehicle care throughout its whole life cycle and moderate life-cycle costs.
One thing is true for all Mercedes-Benz Component Kits: They include "mass-produced components adapted to military requirements". With no limits set to diversity: whether two, three or four axles with varying wheelbases, tonnage from 12.5 tonnes right up to 45 tonnes, 4, 6 or 8-cylinder engines, manual or automatic transmission, the most modern electronic architecture and instruments. When selecting a Component Kit, the manufacturer of armoured monocoque vehicles has recourse to time-tried safeguarded components and interfaces (mechanical, electric, hydraulic, pneumatic) which also come up to international STANAG standards.
Using the "Component Kit" system solution to meet special military requirements is however not just of interest for new projects, but for upgrading fleets of vehicles already in use. The improved performance standards required for vehicles and new challenges to be faced during operations are good reasons for modernising vehicles already used. The most important reason is however to lengthen the vehicle's life cycle. Because a long life span saves resources and lowers life-cycle costs.
It does not matter what manufacturers of armoured vehicles require, they can rely on time-tried mass-produced components and decades of military vehicle know-how from Mercedes-Benz.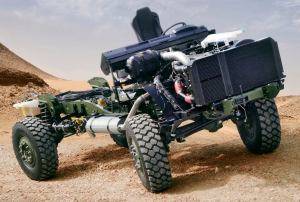 FGA 14.5
For years, Mercedes-Benz Special Chassis FGA 12.5 has proved its worth in very diverse military missions as the base of the KMW DINGO 2. Extensive experience gained over the year and changing operation scenarios with regard to payload, mobility and reliability have served as the basis for the new development of Special Chassis FGA 14.5. This is also the basis for the new heavy duty version of the DINGO 2 HD from Krauss-Maffei Wegmann. The logistical concept of the DINGO 2 HD (supplying spare parts and servicing) follows in the footsteps of the DINGO versions already launched, which were given Special Chassis FGA 12.5 as a base.
The decision to go into series production with Special Chassis FGA 14.5 means that Mercedes-Benz is now in a position to provide manufacturers of military and civil vehicles with a completely newly-designed chassis on the basis of the time-tried Unimog concept. Special Chassis FGA 14.5 is absolutely geared to the requirements of modern armed forces in the 21st century as far as increasing payloads and tactical mobility are concerned and it comes up to the latest standards for military and technical vehicles. Its improved handling properties (achieved with a new drivetrain concept and a new concussion spring package) and the integration of ergonomic operating concepts such as the pre-programmable central tyre inflation system found in the driving display help to take the strain off the driver. The controls are so designed that even drivers with little practice can react quickly with no complications in stress situations.
Designed according to STANAG standards, the Special Chassis also has a flexible ladder-type frame construction which allows the greatest possible torsional flexibility as well as portal axles which provide ground clearance of over 455 mms. Outstanding off-road mobility is provided by the time-tried 3-point mounting for all equipment which has been taken over from the Unimog concept and combined with a specially adjusted concussion spring package.
The drivetrain of the FGA 14.5 is fitted with a Mercedes-Benz a 7200 cc diesel engine, type OM 926 with a power rating of 225 kW which can develop up to 1200 Nm torque. With the OM 926, Special Chassis FGA 14.5 has been fitted with an engine already tested for military purposes (400 h NATO continuous operation) which can also be run on poorer quality fuels.
A premiere in the drive configuration of the Special Chassis FGA 14.5 is its fully-automatic transmission designed for use in exacting operations with six switch stages each with two different reduction possibilities (basic and off-road modes). In addition, the automatic torque converter improves the vehicle's performance when going is difficult, for instance over sandy ground, by making sure that traction is not interrupted.
Electric power for the FGA 14.5 is guaranteed by a new generator concept capable of up to 355 A. It is protected against dirt and provides enough capacity for complex systems (armaments, weapon stations etc.). A new energy management system makes sure that the power supply is well-balanced both for the body (i.e. for a great number of electronic power consumers) as well as for the Special Chassis itself.
The FGA 14.5 equipment package is rounded off by a powerful auxiliary heater with a total output of 12 kW, automatically adjustable to altitudes up to 2500 m, as well as a standard air-conditioning compressor with an output of 9 kW which can be increased to 13 kW as an option for hot regions and/or large crew cabs.
The Special Chassis is fitted with all the mechanical, electric, hydraulic and pneumatic interfaces needed for integrating the safety cage. The most important interfaces are fitted with the corresponding quick-change systems which contribute to reducing the time the vehicle is out of use and the time needed for maintenance - and these of course also lead to a reduction in life-cycle costs.
Manufacturers of armoured troop carriers have a maximum weight of 8.5 t at their disposal for setting up the safety cage and integrating it (incl. armour plating, weaponry, equipment etc.)
With FGA 12.5 and FGA 14.5, Mercedes-Benz Special Chassis is providing a well-thought out range of products tailored to the needs of modern armed forces which is also in keeping with its idea of the vehicle family as a whole.
About Mercedes-Benz Special Chassis
With the establishment of the new business unit, "Mercedes-Benz Special Chassis" in 2008, it is responding to changing market needs. Mercedes-Benz Special Chassis can offer to the vehicle manufacturers the right mobility platform to build up their own protected cabin/cell and furthermore to create their own local content. Based on the proven Meredes-Benz modular unit system, Mercedes-Benz Special Chassis offer to customers a high-quality, mission-specific special chassis or component-kit with proven interfaces.
Mercedes-Benz
29.05.2012

Share...





OSG Reveals the Front Line of Transparent Armor Technologies at DSEI 2013
10.09.2013
New Generation Casspir Raises the Standards for Mine-Protected Vehicles
18.04.2013
Rheinmetall to Supply Sensor Equipment for Bundeswehr Vehicles
01.02.2013
German Armed Forces to Receive 110 Mercedes-Benz Zetros GTF Armoured Transport Vehicles
08.06.2012
Mercedes-Benz UK Defence, Daimler Chrysler UK Ltd
DINGO (Wheeled armoured personnel carrier)
DINGO 2 (Wheeled armoured personnel carrier)
DINGO 2 (Repair and recovery vehicle)
DINGO 2 GSI (Repair and recovery vehicle)
DINGO 2 GSR (Reconnaissance Vehicle)
DINGO 2 HD (Wheeled armoured personnel carrier)
Discuss