LM Receives US Marine Corps Contract For Personnel Carrier Vehicle Study and Demonstration
Category: Contracts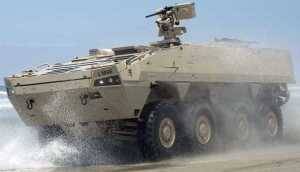 Underscoring the company's ability to deliver cost effective ground vehicle solutions, Lockheed Martin received a $3.5 million contract from the U.S. Marine Corps to test and validate the company's Havoc 8x8 vehicle as part of the Marine Personnel Carrier (MPC) program.
During an eight-month evaluation period, the U.S. Marine Corps will verify human factors and amphibious capabilities of Lockheed Martin's vehicle at the Amphibious Vehicle Test Branch at Camp Pendleton, Calif. Related protection evaluations will occur at the Nevada Automotive Test Center in Carson City, Nev.
"Our Havoc 8x8 is a low-risk, combat-proven solution that is in service with six countries and manufactured on multiple, active production lines," said Scott Greene, vice president of ground vehicles in Lockheed Martin's Missiles and Fire Control business.
The Lockheed Martin Havoc 8x8 vehicle leverages the combat-proven Patria Land Systems' 8x8 Armored Modular Vehicle, which has been selected by six different European countries, is currently in production, and is deployed in Afghanistan. Lockheed Martin is embedding U.S. content into the design, including technology and protection systems.
"Lockheed Martin has extensive experience integrating advanced C4ISR, weapons and protection systems for armored vehicles," said Greene. "Havoc will provide the Marines with high degrees of mobility and protection while being simple to operate and maintain in challenging conditions."
Lockheed Martin
16.08.2012

Share...





Lockheed Martin Autonomous Driving System Tops 55,000 Miles in Extended Army Testing
30.11.2017
SAAB Chosen As Sub-Contractor For The Ajax Virtual Crew Turret Trainer
14.10.2017
General Dynamics Land Systems–UK begins AJAX Manned Live Firing Phase of Programme, Using CTAI 40mm Cannon
18.09.2017
General Dynamics Land Systems–UK Will Deliver Innovative State-of-the-art Training Solutions for the AJAX Programme
14.09.2017
Lockheed Martin Electro-Optical Systems
Lockheed Martin Vought Systtems Corporation
Lockheed Martin Missiles and Fire Control
Havoc (Wheeled armoured personnel carrier)
Havoc (Reconnaissance Vehicle)
Discuss