KONGSBERG Wins next phase CROWS Contract
Category: Contracts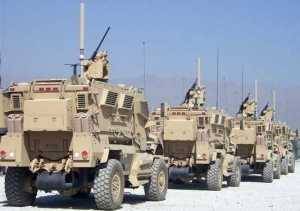 KONGSBERG has been awarded a new framework agreement from the U.S. Army for production, system support and technical engineering support of the M153 CROWS Remote Weapon Stations (RWS).
The contract was won in a full and open competition. The framework agreement has a value up to $970M and extends over a 5 year period. KONGSBERG has received the first order under the framework agreement. The order carries a value of $9.1M. The total scope of the agreement will depend on future demand and annual allocations. KONGSBERG has delivered RWSs to the U.S. Army's CROWS program since 2007.
"KONGSBERG is very proud to have been selected as the supplier for the next phase of the CROWS program. We have produced and delivered PROTECTOR RWS systems for over a decade and this new contract reflects the U.S. Army's confidence in the ability of KONGSBERG to provide high quality systems, services and solutions." says Walter Qvam, CEO, Kongsberg Gruppen.
"This contract award is a product of KONGSBERG's longstanding commitment to successfully deliver innovative solutions that meets our customers' high demands for quality and efficiency, says Egil Haugsdal, President of Kongsberg Protech Systems. Our team looks forward to continuing the excellent relationship we have with the U.S. Army and to delivering highly advanced systems that meet customer's current and future needs."
M153 CROWS is the primary remote weapon station being used by U.S. forces. KONGSBERG, working under the previous CROWS contract, has delivered over ten thousand M153 CROWS units to the U.S. military to date.
"It is an important contract, and winning this program in the midst of a tough market ensures KONGSBERG's world leading position in the market for remotely operated weapon stations," continues Egil Haugsdal.
KONGSBERG
20.08.2012

Share...





QinetiQ and Pratt Miller Deliver First Robotic Combat Vehicle - Light to U.S. Army
02.02.2021
KONGSBERG CONCLUDES A $ 54 MILLION CONTRACT FOR THE DELIVERY WEAPON STATIONS TO CANADIAN ARMY
05.06.2020
CONTRACT TO DELIVER REMOTE WEAPONS STATIONS TO DENMARK WORTH 270 MNOK
11.12.2019
Rheinmetall Presents Next Gen "Wiesel Wingman" solution for Robotic Combat Vehicle – Light at AUSA 2019
04.11.2019
Kongsberg Defence & Aerospace AS
M151 Protector RWS (Remote controlled weapon station)
Protector Javelin (Remote controlled weapon station)
Protector Lite (Remote controlled weapon station)
M 153 Protector CROWS II (Remote controlled weapon station)
Protector (Wheeled armoured personnel carrier)
Protector MAV (Wheeled armoured personnel carrier)
Casspir Mk VI Protector (Mine protected carrier)
Protector Dual RWS (Remote controlled weapon station)
Protector Super Lite (Remote controlled weapon station)
PROTECTOR MCT-30 (Remote controlled weapon station)
Protector Nordic (Remote controlled weapon station)
Protector (Robot, Unmanned Vehicle)
CROWS-J (Remote controlled weapon station)
Discuss