Finland Orders Weapon Stations for RG32M Armoured Vehicles
Category: Contracts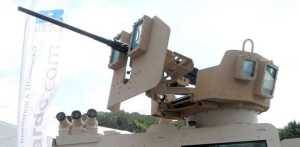 Finlandís Ministry of Defence has placed an order for manned weapon stations to equip its fleet of RG-32M mine hardened armoured patrol vehicles. Valued at more than US$1.7 million, the contract was placed with Australian weapon mount producer, W&E Platt.
It will involve supply of 39 Platt MR550 Bi-Metal Ring Mounts, which are to be shipped to Finland for installation on Finnish Army RG-32M vehicles.
The MR550 Bi-Metal Ring Mount provides firepower and protection for vehicle gunners and utilises a dual layer of armour to save weight yet still provide protection against improvised explosive device blast and small arms fire. The protection level is upgradeable to STANAG Level 3.
This is the second order of the MR550 Bi-Metal Ring Mount by Finland, coming off the supply of 10 mounts to a similar configuration in late 2011. Sweden also operates the RG32M fitted with the MR550 Bi-Metal Ring Mount, where it has been deployed on operations in Afghanistan.
At a fraction of the cost and complexity of remote weapon stations, the MR550 Bi-Metal Ring Mount is tailored for wheeled and tracked armoured vehicles with a gross vehicle mass under 10 tonnes, or larger vehicle designs sensitive to changes in centre-of-gravity. Finnish MR550 Bi-Metal Ring Mounts will be fitted with various mission kits such as wire cutters, ammunition stowage racks, M72 light anti-armour weapon holders and brackets for high-powered lights to enable night operations.
In Finnish Army service the MR550 Bi-Metal Ring Mount will be equipped with legacy Soviet-era weapons such as the NSV/12,7 ITKK 96 12.7mm heavy machine gun and PKM 7.62mm machine gun, as well as the M2HB 12.7mm heavy machine gun and HK 40mm Grenade Machine Gun. The ring mount is manually operated via gearbox and traverses through 360 degrees. Maximum weapon elevation is +65 degrees and depression -35 degrees.
Deliveries of MR550 Bi-Metal Ring Mounts to Finland will commence in the 4th quarter of 2012.
W&E Platt
22.08.2012

Share...





AM General Debuts Multi-Purpose Truck Concept at IDEX 2017
26.02.2017
Guns Up For Australian Army 6x6 G-Wagons
02.10.2013
BAE Systems Secures ą12.5 Million Vehicle Follow on Contract from Finland
14.06.2012
BAE Systems Awarded Two Armored Vehicle Awards Totaling More Than $150 Million
22.12.2011
Discuss