Lockheed Martin Wins Contract to Increase Tactical Vehicle Safety with Autonomous Technology
Category: Robots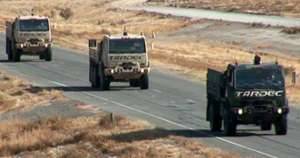 Lockheed Martin received an $11 million contract for the development, integration and testing of the Autonomous Mobility Applique System (AMAS).
Work on the contract, which was awarded by the U.S. Department of Defense through its Other Transaction Agreement with the Robotics Technology Consortium, will be performed in Littleton, Colo., and Dallas through 2014.
The multiplatform kit integrates low-cost sensors and control systems onto U.S. Army and Marine Corps tactical vehicles to assist drivers or enable autonomous operation in convoys. AMAS does not interfere with drivers who choose to operate their vehicle manually. It adds a sensing and control function that alerts users so they can rapidly react to safety threats.
"Driving tactical vehicles in a combat zone can be dangerous, but AMAS will help by giving drivers an automated option to alert, stop and adjust, or take full control under user supervision," said Scott Greene, vice president of ground vehicles in Lockheed Martin's Missiles and Fire Control business. "We pioneered this technology and have logged more than 16,000 miles with it on several platforms. AMAS is a concrete step in using autonomous systems to let soldiers be soldiers instead of being drivers."
Lockheed Martin proved much of the AMAS technology as part of the award-winning Convoy Active Safety Technology (CAST) program, which applied advanced leader/follower autonomy to multiple tactical vehicle types that serve in convoys. From the beginning, the kit was designed to be low-cost and essentially platform independent. The system has a simple, single-button activation, and soldiers were using the system with as little as an hour's training.
The U.S. Army Tank-Automotive Research, Development and Engineering Center (TARDEC) tested the CAST vehicles under a variety of combat conditions and demonstrated that the system will save lives by improving both safety and security.
"This technology is extremely versatile, considering our robust perception and control algorithms and our low-cost sensor suite," said Greene. "We are confident we can spread its use across the eight vehicle types the program will use for demonstration. Many of the algorithms on AMAS also control Lockheed Martin's Squad Mission Support System unmanned ground vehicle, which was recently used by soldiers in Afghanistan."
Lockheed Martin
25.10.2012

Share...





Lockheed Martin Autonomous Driving System Tops 55,000 Miles in Extended Army Testing
30.11.2017
SAAB Chosen As Sub-Contractor For The Ajax Virtual Crew Turret Trainer
14.10.2017
General Dynamics Land Systems–UK begins AJAX Manned Live Firing Phase of Programme, Using CTAI 40mm Cannon
18.09.2017
General Dynamics Land Systems–UK Will Deliver Innovative State-of-the-art Training Solutions for the AJAX Programme
14.09.2017
Lockheed Martin Electro-Optical Systems
Lockheed Martin Vought Systtems Corporation
Lockheed Martin Missiles and Fire Control
AMAS (Robot, Unmanned Vehicle)
Discuss