Lorica selected as preferred supplier for Turret Armour to Warrior CSP
Category: Defence Industry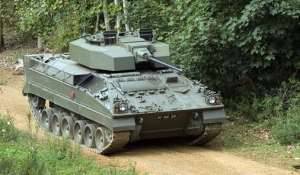 Lorica Systems UK Limited (Lorica) today announced it has been chosen by Lockheed Martin UK for final negotiations as the preferred turret armour supplier for the demonstration phase of the UK MoD Warrior Capability Sustainment Programme (WCSP) and is now in final negotiations with Lockheed Martin.
The WCSP program will provide a range of upgrades to the Warrior Armoured Fighting Vehicle, with the aim of extending the vehicles' service life beyond 2035. Lorica is an armour and survivability Joint Venture between Marshall Land Systems of Cambridge and Plasan of Israel.
The key requirements of the project are to meet future threat levels and challenging weight targets, whilst demonstrating that armour can be effectively integrated to match the turret profile. Lorica specialises in a low-weight approach to flexible armouring solutions. The WCSP programme is ideal for their skill base.
Tim Vaughan, Head of Business Development for Lorica comments, "It has been a tough competition against some very strong companies. We are delighted to have been chosen to work with Lockheed Martin and we very much look forward to protecting British Soldiers in the future."
Marshall Land Systems specialises in the design, manufacture, integration and product support of defence vehicles and integrated shelters. Plasan is a global provider of advanced light weight vehicle armour for the defence and security industries designed to maximise the survivability of the platform, its systems and vitally, the crew. The integrated, platform independent armour offers a high level of protection from a range of threats and significantly enhances platform and crew survivability.
Sergyi Way
14.11.2012



www.army-guide.com
Share...





Rheinmetall and BAE Systems Launch UK Based Military Vehicle Joint Venture - Rheinmetall BAE Systems Land
02.07.2019
UK Army Robotics Receive GBP66 M Boost
07.03.2019
HORIBA MIRA to Continue to Develop Cutting Edge Unmanned Ground Vehicle Technologies
30.07.2018
SAAB Chosen As Sub-Contractor For The Ajax Virtual Crew Turret Trainer
14.10.2017
Warrior (Infantry fighting vehicle)
Warrior 2000 (Infantry fighting vehicle)
Warrior (Observation Post Vehicle)
BJ2020 Brawe Warrior (Lightweight troop carrier vehicle)
Warrior (Repair and recovery vehicle)
Desert Warrior (Infantry fighting vehicle)
FV511 Warrior (Command vehicle)
Warrior (Self-propelled mortar)
Warrior (Reconnaissance Vehicle)
Warrior (Self-propelled antitank guided missile system)
Warrior x700 (Robot, Unmanned Vehicle)
710 Warrior (Robot, Unmanned Vehicle)
Warrior 2 WCSP (Modernization of the vehicle)
Discuss