LM's Final JLTV Development Vehicle Rolls off Assembly Line
Category: Future Technologies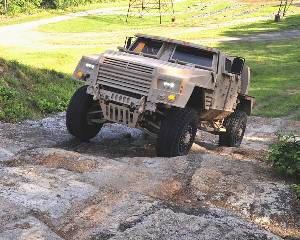 The final Lockheed Martin Joint Light Tactical Vehicle (JLTV) produced for the program's Engineering, Manufacturing and Development (EMD) phase has rolled off the assembly line, joining a fleet of previously completed vehicles that will be delivered for government testing and evaluation this summer.
The Lockheed Martin team produced a total of 22 JLTV test vehicles, which were manufactured at BAE Systems' Sealy, Texas, manufacturing facility, a world leader in the production of military and severe-duty wheeled vehicles. Delivery to the U.S. Army and Marine Corps for long-term testing and evaluation is scheduled for August 22.
"Lockheed Martin is committed to providing our soldiers and Marines with a vehicle of unequalled capability and dependability, and one that is affordable both to buy and to operate," said Scott Greene, vice president of ground vehicles for Lockheed Martin Missiles and Fire Control. "We are excited to get these vehicles into the hands of the customer. Early break-in testing is under way, and we are confident that our JLTV design will serve our servicemen and women well."
Following successes in the program's Technology Development phase, the U.S. Army and Marine Corps awarded Lockheed Martin a $65 million contract in August 2012 to continue developing JLTV through the EMD phase. Initial tests demonstrated that the Lockheed Martin design provided blast protection equivalent to much larger mine-resistant vehicles in service today.
The Lockheed Martin Joint Light Tactical Vehicle balances the "iron triangle" of protection, performance and payload while maintaining affordability. Compared to general-purpose vehicles currently in service, the Lockheed Martin JLTV will provide greatly improved crew protection and mobility, lower logistical support costs, superior fuel efficiency and state-of-the-art connectivity with other platforms and systems. The team's current JLTV design maintains the proven force protection, transportability and reliability of the earlier Technology Development model, while significantly reducing weight and cost.
For more than three decades, Lockheed Martin has applied its systems-integration expertise to a wide range of successful ground vehicles for U.S. and allied forces worldwide. The company's products include the combat-proven Multiple Launch Rocket System M270-series and HIMARS mobile launchers, Havoc 8x8, Common Vehicle, Light Armored Vehicle-Command and Control, Warrior Capability Sustainment Programme, Joint Light Tactical Vehicle and pioneering unmanned platforms such as the Squad Mission Support System.
Lockheed Martin Missiles and Fire Control is a 2012 recipient of the U.S. Department of Commerce's Malcolm Baldrige National Quality Award for performance excellence. The Malcolm Baldrige Award represents the highest honor that can be awarded to American companies for their achievements in leadership, strategic planning, customer relations, measurement, analysis, workforce excellence, operations and results.
Lockheed Martin
27.06.2013

Share...





Oshkosh Defense Receives Order for 248 Joint Light Tactical Vehicles
02.07.2020
Oshkosh Defense Receives $407.3 Million Order for Joint Light Tactical Vehicles
24.02.2020
Oshkosh Defense Exhibits JLTV Firepower at IDEX 2019
24.02.2019
Oshkosh FMTV A2 Makes Debut at Ausa 2018, Multiple JLTVS Command the Floor
14.10.2018
Lockheed Martin Electro-Optical Systems
Lockheed Martin Vought Systtems Corporation
Lockheed Martin Missiles and Fire Control
L-ATV/JLTV (Mine protected carrier)
Discuss