Nexter Systems reveals its new 6x6, TITUS®, at the DSEI 2013 exhibition
Category: Exhibitions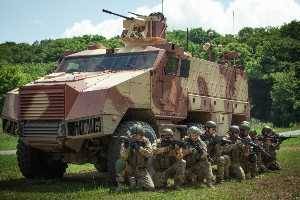 DSEI, London -- During the DSEI Exhibition, Nexter Systems, a European leader of land defence, unveiled its brand new armoured wheeled vehicle: TITUS®, the versatile armoured vehicle of the XXIst century.
Continuing a famous long lineage of innovating systems, including Leclerc MBT, VBCI and CAESAR®, all combat proven in many theatres of operation, Nexter Systems combined the best of its experience and technology in TITUS®.
Through its unrivaled level of modularity based on combat missions kits, operational environment kits and a wide family of variants, TITUS® is able to fulfill the full range of missions from Infantry transport to combat missions, combat support and combat service support functions, in any kind of type of commitments likely to occur in a hybrid conflict.
TITUS® offers an exceptional mobility. Protection is also at the core of TITUS® conception. The vehicle is wrapped up with a last generation modular armoured skin, providing a ballistic level 2 to level 4, mines level 4a and 4b, and IEDs blasts up to 150 kg, increased by the original Nexter SAFEPRO® design. Furthermore, to allow the crew of two or three and the full strength squad up to twelve to last a long time on the ground, an important effort of human integration has been done by Nexter. Fire power has not been neglected since TITUS® can be equipped with any kind of Remote Control Weapon Station from 7.62mm to 20mm, and 40mm Grenade Launchers as well, depending on the level of threats and type of missions. TITUS® is fully integrated within the C4I network through last generation vetronics. Nexter Battlefield Management System FINDERS® provides a situational awareness, enhanced by a perimetric camera system, and reconnaissance robot (NERVA® LG), allowing a safe dismounting.
Nexter
12.09.2013

Share...





TEMPORARY COMPANY GROUPING EBMR MEETS ITS DELIVERY OBJECTIVES FOR 2019
14.01.2020
CZECH REPUBLIC SIGNED THE ACQUISITION CONTRACT FOR 62 TITUS
30.07.2019
KMW and Nexter join forces on Main Ground Combat System
21.06.2018
With the TITUS® mission orchestration, Nexter asserts its position as a global player in the digitization of the land defense
20.06.2018
TITUS (Wheeled armoured personnel carrier)
Andros Titus (Robot, Unmanned Vehicle)
Discuss