LM to Build JLTV at Award-Winning Facility in Camden, Arkansas
Category: Defence Industry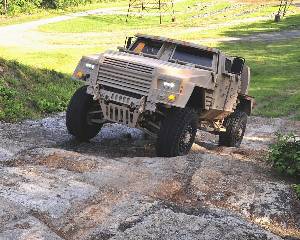 Lockheed Martin will move production of its Joint Light Tactical Vehicle (JLTV) to an assembly line at the company's award-winning Camden, Ark., manufacturing complex, where the company expects to gain significant production efficiencies and cost reductions.
"Lockheed Martin is implementing a low-risk production plan that will take advantage of the proven, outstanding Camden manufacturing operation and help make our JLTV more affordable for the U.S. Army and Marine Corps," said Scott Greene, vice president of Ground Vehicles for Lockheed Martin Missiles and Fire Control.
JLTV prototypes were produced at BAE Systems' Sealy, Texas, manufacturing facility for the program's Technology Development and Engineering and Manufacturing Development phases. Plans to close the Sealy plant were announced today. BAE Systems will remain a key partner on the Lockheed Martin JLTV team, providing integrated cabs, protection solutions and other vehicle manufacturing expertise.
"BAE Systems remains committed to Lockheed Martin and our JLTV program," said Mark Signorelli, vice president and general manager of Combat Vehicles for BAE Systems. "Recognizing the budget pressures our customers face, the team is reshaping our efforts to provide the most cost competitive offering with exceptional technical capability and product quality to our end users."
Lockheed Martin's Camden complex is among the premiere manufacturing sites in the United States. Camden has a strong reputation for on-schedule delivery of high quality products including High Mobility Artillery Rocket System (HIMARS) launchers, Guided Multiple Launch Rocket System (GMLRS) rockets, Patriot Advanced Capability-3 (PAC-3) Missiles and Terminal High Altitude Area Defense (THAAD) ground vehicles. Over the last decade Camden has won more than 60 awards for quality, safety, security and community service, including:
The Malcolm Baldrige National Quality Award, 2012
The Shingo Silver Medallion Award for Operation Excellence, 2008, 2009
Industry Week magazine's "Best Plants in North America," 2005, 2006
The National Safety Council's Perfect Record Award, 2007
The National Safety Council's Occupational Excellence Achievement Award, 2006, 2007, 2009, 2010
The National Safety Council's Industry Leader Award, 2007
The Arkansas Governor's Quality Award, 2012
Designed as a more capable and survivable replacement for many of the current Army and Marine Corps HMMWV "Humvee" vehicles, the Lockheed Martin JLTV is systems-engineered to return crucial protection, mobility and transportability to Soldiers and Marines. Its advantages include greatly improved crew protection and mobility, lower logistical support costs, superior fuel efficiency, exportable power-generation with substantial margin for future growth, and state-of-the-art connectivity with other platforms and systems.
For more than three decades, Lockheed Martin has applied its systems-integration expertise to a wide range of successful ground vehicles for U.S. and allied forces worldwide. The company's products include the combat-proven MLRS M270-series and HIMARS mobile launchers, Havoc 8x8, Common Vehicle, Light Armored Vehicle-Command and Control, Warrior Capability Sustainment Programme, Joint Light Tactical Vehicle and pioneering unmanned platforms such as the Squad Mission Support System (SMSS).
Lockheed Martin Missiles and Fire Control is a 2012 recipient of the U.S. Department of Commerce's Malcolm Baldrige National Quality Award for performance excellence. The Malcolm Baldrige Award represents the highest honor that can be awarded to American companies for their achievements in leadership, strategic planning, customer relations, measurement, analysis, workforce excellence, operations and results.
Lockheed Martin
16.10.2013

Share...





Oshkosh Defense Receives Order for 248 Joint Light Tactical Vehicles
02.07.2020
Oshkosh Defense Receives $407.3 Million Order for Joint Light Tactical Vehicles
24.02.2020
Oshkosh Defense Exhibits JLTV Firepower at IDEX 2019
24.02.2019
Oshkosh FMTV A2 Makes Debut at Ausa 2018, Multiple JLTVS Command the Floor
14.10.2018
Lockheed Martin Electro-Optical Systems
Lockheed Martin Vought Systtems Corporation
Lockheed Martin Missiles and Fire Control
L-ATV/JLTV (Mine protected carrier)
Discuss