Elbit Systems to Showcase a New Upgraded Version of the ATMOS 155mm/52 caliber Truck-Mounted Howitzer at Eurosatory 2014
Category: Exhibitions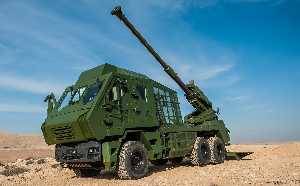 Elbit Systems will showcase, for the first time at a global trade show, its new upgraded version of the ATMOS155mm/52 caliber Truck-Mounted Howitzer. Mounted onboard a TATRA vehicle chassis, the ATMOS will be located at Hall 6 booth D-601.
ATMOS is a lightweight, long range, fast moving, truck-mounted self-propelled (SP) 155 artillery system. The new and improved version showcased at the show enables superior fire power, enhanced mobility and rapid response time.
The upgraded version offers ranges exceeding 40km with ERFB-BB ammunition and suitable propelling charge, at an extremely high firing rate of six projectiles per 60 seconds, achieved by using a unique new load assist device.
Its shoot-and-scoot capabilities are supported by an integrated electronic suite incorporating an INS-based laying system, as well as a semi-automatic loading system that reduces the amount of crew members needed in operation. The new ATMOS supplies fire support for all types of missions and can be easily interfaced with customers' existing C4I systems, enabling a common operational picture and enabling quickly close sensor-to-shooter loops.
The ATMOS can be mounted on any adapted high-mobility 6x6 or 8x8 truck chassis preferred by the customer (in this case it is mounted onboard a TATRA chassis). The protected cabin of the ATMOS is designed for a crew of 5-6 personnel, a driver, a commander, and an additional three to four crew members along with all personal equipment and small arms.
Able to fire all types of qualified 155mm ammunition, projectiles and charges that are in use by NATO and other countries, ATMOS is battle-proven and fully operational in artillery forces around the world, providing advanced fire support for a wide range of missions.
Udi Vered, General Manager of Elbit Systems' Land and C4I Division commented: "The new and advanced upgraded version of the ATMOS is based on the vast operational experience accumulated by Elbit Systems' battle-proven products used by the Israeli Defense Forces and other world-leading armed forces. Basing on our experience and know-how, we are able to deliver a highly flexible and unique solution that can be mounted on any chassis preferred by the customer. This integrative solution combines artillery systems and advanced electronic capabilities suitable for the growing trend of transition to wheeled mobile platforms for artillery, providing a tactical force- multiplier for fighting units on the battlefield."
Elbit
29.05.2014

Share...





CZECH REPUBLIC SIGNED THE ACQUISITION CONTRACT FOR 62 TITUS
30.07.2019
General Dynamics European Land Systems presents a new variant of PIRANHA IFV at the HEMUS Exhibition 2018
04.06.2018
Elbit Systems of Australia Concludes Successful Delivery of Thermal Weapon Sights to ADF
14.05.2018
Australian Minister for Defence Industry Publicly Announced Elbit Systems' Award of Additional BMS for the ADF
28.11.2017
ATMOS (Self-propelled howitzer)
Discuss