New telemax 4x4 Explosive Ordnance Robot Introduced At DSEI
Category: Robots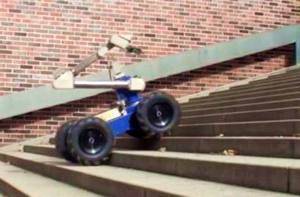 A team from Cobham has introduced a new telemax 4x4 remotely operated vehicle to the unmanned systems industry during the 2015 DSEi conference in London (Stand S6-150). The telemax 4x4, an optimised derivative of Cobham Unmanned Systems suite of telemax robots, offers a lighter, faster and more cost effective solution to the customer. The 4x4 design incorporates a new 4 wheel drive system (top speed of 11.5 Km/h) and WLAN-based data and video transmission technology to achieve improved effectiveness, connectivity and functionality.
Incorporating over 2 decades worth of Cobham Unmanned Systems experience in the development and production of explosive ordnance robots, the 4x4 offers the same diverse range of tools, accessories and sensor options as all members of the telemax family, including critical capabilities such as Tool Centre Point (TCP) control and automatic tool change. The utilisation of the mission proven manipulator arm and other telemax specifications allows for the option to upgrade the 4x4 to the telemax PRO or CBRN at a later date.
"Cobham's investment in the development of the telemax 4x4 highlights our commitment to improve our offering to the unmanned systems market through the diversification of our telemax family. The telemax 4x4 offers increased value to the customer, whilst still delivering the high performance and functionality expected of a telemax robot in critical missions", said Thomas Biehne, Director, Business Development and Sales.
Cobham Unmanned Systems is a leading provider of integrated homeland security solutions and unmanned platforms, utilising over 20 years of expertise in this highly specialised field. Whether the task at hand is disarming an Improvised Explosive Device (IED) with a remote controlled robot; investigating hazards with an unmanned sensor platform; or deploying mobile, fully networked measurement, monitoring and intervention systems to ensure the safety and security of critical infrastructure, Cobham's top priority is always the protection of people and their surroundings.
Northrop Grumman
18.09.2015

Share...





General Dynamics Land Systems–UK showcases adaptable Foxhound vehicle at DSEI 2019
23.09.2019
Otokar offers solutions with technology transfer and local manufacturing models
13.09.2019
General Dynamics Land Systems–UK Will Deliver Innovative State-of-the-art Training Solutions for the AJAX Programme
14.09.2017
General Dynamics Land Systems–UK Showcases EAGLE Platform Ahead of MRV-P Programme Trials
14.09.2017
Telemax (Robot, Unmanned Vehicle)
Discuss