Textron Systems Awarded Contract to Provide an Additional 55 COMMANDO™ Select Armored Vehicles to Afghan National Army
Category: Contracts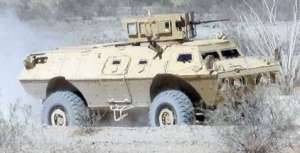 NEW ORLEANS, LA -- Textron Systems Marine & Land Systems, a Textron Inc. business, announced today a $56.2 million firm-fixed-price contract from the U.S. Army Contracting Command, Warren, Mich., to supply 55 additional COMMANDO™ Select four-wheeled armored vehicles to the Afghan National Army (ANA).
The vehicles are being contracted through the U.S. Army Foreign Military Sales (FMS) process. Work will be performed in Slidell, La., with vehicle deliveries beginning in October 2015 and completing by February 2016.
This latest FMS order of COMMANDO Select vehicles for the ANA will be configured in three variants: 36 equipped with Objective Gunner Protection Kits; 15 with enclosed 40mm/.50 caliber turrets; and four ambulance vehicles.
Called Mobile Strike Force Vehicles (MSFV) by the ANA, these vehicles will be deployed in support of security operations throughout the country. More than 630 of these vehicles have been delivered to the ANA since 2012.
"Since being put into service by Afghan National Army Kandaks (battalions) several years ago, ANA soldiers have experienced the exceptional mobility, survivability and overall performance these vehicles are known for," said Tom Walmsley, Marine & Land Systems senior vice president and general manager. "This additional supply of vehicles will support Kandaks currently operating MSFVs, so that existing ANA vehicle inventory can be rotated in for regular service and maintenance work."
Rigorously tested and proven in the toughest environments, the COMMANDO family of vehicles – including Elite, Select and Advanced lines – offers a range of protection options, unmatched on-road/off-road mobility and ample firepower. As an end-to-end solutions provider, Textron Systems also offers customers vehicle fielding, training, maintenance and logistics support services throughout each vehicle's life cycle.
Textron
04.10.2015

Share...





Textron Systems Announces Plans to Acquire Robotics Innovator Howe & Howe Technologies
04.11.2018
Textron Systems Delivers First TAPV to the Canadian Army
30.08.2016
Renault Trucks Defense To Exhibit At The SOFINS Show
13.04.2015
Supacat to deliver 89 Special Operations Vehicles – Commando under $105m contract for JP2097 Ph 1B (REDFIN) Program
30.08.2014
Textron Systems Maui Operations
LAV-150 Commando (Reconnaissance Vehicle)
VLRA TDN-TDE Commando (Patrol Vehicle)
COMMANDO Advanced (Reconnaissance Vehicle)
COMMANDO Select (Tactical vehicle)
COMMANDO Elite (Tactical vehicle)
Discuss