FNSS Awarded New Contract To Deliver Pars Wheeled Armoured Vehicles
Category: Contracts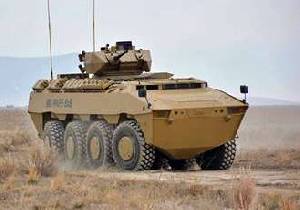 Turkey's leading land based defence systems company FNSS, has achieved another success with its PARS Wheeled Armoured Vehicle (WAV) family. Recently FNSS was awarded a contract to supply the PARS WAV to a new customer.
The contract is already effective and FNSS has started to fulfill its obligations under this new contract which includes delivery of a series of vehicles in various configurations. The exact customer, vehicle types, total budget and additional details will remain confidential.
In 2011 FNSS has achieved the highest export value among the Turkish defence industry based on a single contract with the Malaysian AV8 program.
"This latest success for the PARS vehicle family, which has become a world standard in 8x8 and 6x6 wheeled armoured vehicles, has once again highlighted the status already achieved by FNSS on the international market. In competition alongside the world's other top companies, FNSS has once again demonstrated the real quality and value of its vehicles, securing the highest scores in both the technical and value domains. We will continue to maintain our customer's satisfaction at the highest level by meeting the contract requirements in terms of the schedule, budget, and quality", says K. Nail Kurt, General Manager and CEO of FNSS.
About FNSS
FNSS Savunma Sistemleri A.Ş. (FNSS), a joint venture owned 51 percent by Nurol Holding and 49 percent by BAE Systems, is a leading company in the design and production of tracked and wheeled armoured vehicles and weapon systems for use by Turkish and allied armed forces.
FNSS, established in 1988 for the production of Armoured Combat Vehicles, has achieved the status of a global company, capable of designing and producing a broad range of land systems and including training and integrated logistic support for these systems.
FNSS will continue to be the number one land combat systems provider for the Turkish Armed Forces and the regional supplier of choice for other armies throughout the world.
FNSS
18.02.2016

Share...





AV-8 AENBCRV Vehicle Prepares to Enter Malaysian Army Inventory
29.04.2019
FNSS Reveals PARS III 8x8 Engineering Vehicle
29.04.2019
The Indonesian PT Pindad medium tank tested by mine explosion
13.07.2018
FNSS Showcases its New Generation Tracked & Wheeled Armored Vehicles at Eurosatory 2018
12.06.2018
Pars 8x8 (Wheeled armoured personnel carrier)
Pars 6x6 (Wheeled armoured personnel carrier)
Pars 4x4 (Reconnaissance Vehicle)
Pars 6x6 CBRN (Nuclear/biological/chemical reconnaissance vehicle)
Pars III 8x8 (Wheeled armoured personnel carrier)
Pars III 6x6 (Wheeled armoured personnel carrier)
Pars 6x6 SCOUT (Reconnaissance Vehicle)
Pars III 8x8 (Engineer vehicle)
Discuss