Thales launches Digipack, a ready-to-deploy solution connecting vehicles on the battlefield
Category: Exhibitions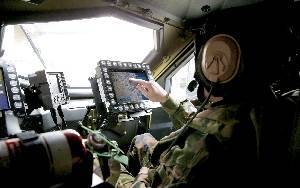 At Eurosatory 2016, Thales announces the commercial launch of Digipack, a turnkey digitisation solution for protected vehicles, designed to provide combat forces with the information superiority they need.
Network-centric operations hinge on the ability to share the right information with the right people at the right time. Digipack meets the requirements of these new forms of engagement to support land forces in their digital transformation.
Information at your fingertips
Digipack is a turnkey solution supplied as a ready-to-deploy digitisation kit including a Battlefileld Management System (BMS), tactical radio and internal communication for crews. Digipack is designed as a cost-effective solution for land forces or special forces and is compatible with all platform types.
With an intuitive design inspired by smartphone apps to offer rapid access to information, Digipack is easy to use by operational personnel without lengthy training and is ideal for on-the-move combat operations.
Digipack draws on Thales's proven expertise and experience in major vehicle digitisation programmes in France and around the world.
Digipack kits are available now for customers seeking to accelerate the digitisation of their armed forces through new-build as well as vehicle retrofit programmes.
Thales
14.06.2016

Share...





TEMPORARY COMPANY GROUPING EBMR MEETS ITS DELIVERY OBJECTIVES FOR 2019
14.01.2020
Rheinmetall Presents Next Gen "Wiesel Wingman" solution for Robotic Combat Vehicle – Light at AUSA 2019
04.11.2019
THALES AUSTRALIA AND GENERAL DYNAMICS ORDNANCE AND TACTICAL SYSTEMS DELIVERING FOR THE ADF
12.06.2019
FN Herstal Enhances Self-Protection Capabilities of deFNder RWS with ANTARES Situational Awareness System
11.06.2018
Thales Raytheon Systems France
Thales Optronics (Taunton) Ltd
Thales Training & Simulation (USA)
Discuss