Supacat to deliver Special Operations Vehicles – Mobility Heavy (SOV-MH) to New Zealand
Category: Defence Industry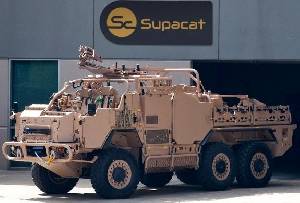 The New Zealand Ministry of Defence has awarded a contract to high mobility vehicle specialist Supacat, to deliver Special Operations Vehicles – Mobility Heavy (SOV-MH) for the New Zealand Defence Forces. Supacat is also in the process of agreeing a long term support contract with the New Zealand Defence Force to support the new fleet. The new SOV-MH vehicles are based on the latest MkII version of Supacat's HMT Extenda and provide a high level of commonality with the equivalent vehicles with other Special Forces.
The program will commence vehicle deliveries in the final quarter of 2017.
SC Group CEO, Nick Ames, said "We are delighted that New Zealand has chosen to join the HMT family. Interoperability is an important element for the Special Forces community and commonality of spares and support, is a key driver in maintaining relatively small fleets."
Designed for, and used by, the world's elite Special Forces, the HMT Extenda is unique in being convertible to either a 4×4 or 6×6 configuration to meet different operational requirements. Its open architecture provides for various levels of protection and great variety in the roles and missions for which it can be configured. New Zealand is a new customer for Supacat and the latest defence force to join the HMT family.
Michael Halloran, Managing Director Asia Pacific said, "We are very pleased to have reached this milestone with our friends in New Zealand and we are dedicated to providing the New Zealand Defence Force with the best cross country wheeled mobility in the world. This is a very exciting time for the Supacat team in Australia as it is the first time that we have entered into a product export contract."
The SOV-MH vehicles will be manufactured at Supacat's existing assembly facilities in Australia using Supacat Team Australia members to manufacture and assemble the vehicle. This represents the first time that Supacat Team Australia members will be exporting completed vehicles and complements the opportunities already emerging for Australian suppliers to enter Supacat's global supply chains.
Supacat
11.09.2016

Share...





Supacat, Rheinmetall and SCISYS partnership showcases new High Mobility Integrated Fires Capability
12.09.2019
UK company pioneers autonomous hybrid vehicle for extreme off road operations
12.09.2019
Supacat delivers the first production HMT Extenda Vehicle to Norway
21.06.2018
Rheinmetall set to supply the Australian Defence Force with over 200 Boxer wheeled armoured reconnaissance vehicles
18.03.2018
Discuss