GD Showcases AJAX Progress
Category: Defence Industry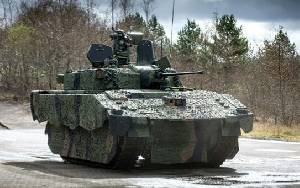 General Dynamics Land Systems–UK has successfully completed an additional live firing test for AJAX, the British Army's new Armoured Fighting Vehicle, at a range in West Wales.
The testing, which took place throughout July and August, involved both the turreted AJAX variant and the ARES variant. It focused on generating specific data and evidence to support manned firing trials planned for early next year.
The turreted AJAX firing trials were conducted by a joint General Dynamics Land Systems–UK and Lockheed Martin UK team, with support from CTA International. The trials were observed by the UK Ministry of Defence.
The AJAX testing included the firing of the CTA International 40mm cannon, the coaxially mounted 7.62mm machine gun and smoke grenades. The ARES variant tested the firing of the Kongsberg PROTECTOR Remote Weapon System, which included the firing of the General Purpose Machine Gun (GPMG), Heavy Machine Gun (HMG), Grenade Machine Gun (GMG) and smoke grenades.
Throughout the firing trials, General Dynamics Land Systems–UK completed a comprehensive set of more than 400 individual tests on both prototype combat vehicles.
Chief of Materiel (Land) at the MoD's Defence Equipment and Support organisation Lieutenant General Paul Jaques attended the live firing trials in August. He said: "The completion of these live firing trials marks an important milestone towards fulfilment of the AJAX programme, the British Army's largest single order for armoured vehicles for more than 30 years. This national project will equip our troops with a fleet of world-class armoured vehicles, which will form a central component of the UK's new Strike Brigades."
Kevin Connell, vice president of General Dynamics Land Systems–UK, said: "The AJAX trials programme continues to go from strength-to-strength in showcasing the capability this family of combat vehicles provides the British Army. Manned firing trials, planned for early next year, will again demonstrate the step-change in capability this vehicle provides, and marks a significant step towards the delivery of AJAX to our customer."
Other trials planned for AJAX prototypes in the coming months include automotive, cold chamber, power systems and Intelligence, Surveillance, Target Acquisition and Reconnaissance (ISTAR) capabilities.
The range of AJAX variants will allow the British Army to conduct sustained, expeditionary, full-spectrum and network-enabled operations with a reduced logistics footprint. They will operate in combined-arms and multinational situations across a wide-range of future operating environments. The first British Army squadron will be equipped by mid-2019 to allow conversion to begin with a brigade ready to deploy from the end of 2020.
GDLS
19.09.2016

Share...





£2.8bn armoured vehicle contract secured for British Army
11.11.2019
General Dynamics Land Systems–UK showcases adaptable Foxhound vehicle at DSEI 2019
23.09.2019
General Dynamics UK selected for Army Warfighting Experiment 2019
23.09.2019
SAAB Chosen As Sub-Contractor For The Ajax Virtual Crew Turret Trainer
14.10.2017
General Dynamics Land Systems - GDLS
General Dynamics Land Systems - GDLS - Canada
SCOUT SV Ajax (Infantry fighting vehicle)
Discuss