SAIC Unveils First Amphibious Combat Vehicle 1.1 to U.S. Marine Corps
Category: Future Technologies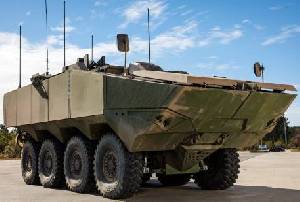 CHARLESTON, S.C. -- Science Applications International Corp. (NYSE: SAIC) unveiled its first Amphibious Combat Vehicle (ACV) 1.1 prototype to the U.S. Marine Corps during a ceremony held at the company's integration facility in Charleston, South Carolina. This vehicle is the first of 16 to be delivered for testing by the Marine Corps, which is scheduled to begin next month.
"SAIC is incredibly proud to deliver this modern, high-tech, highly-capable solution to the Marine Corps. Our employees and team members worked tirelessly to successfully deliver this solution to the Marine Corps on time despite delays due to an initial contract award protest," said Tom Watson, SAIC senior vice president and general manager of the U.S. Navy and Marine Corps Customer Group. "We are confident that this vehicle is equipped with the latest technology which will strengthen the amphibious capabilities of the USMC today and into the future."
SAIC's ACV 1.1 solution is an enhanced, customized variant of ST Kinetics' TERREX vehicle fielded by the Singapore Armed Forces. Tailored to meet Marine Corps requirements, SAIC's ACV is an 8x8 wheeled, armored amphibious vehicle with improved survivability, mobility, lethality, and C4ISR capability tailored to transport Marine Corps fighting units from ship to shore. SAIC's ACV engine and transmission offers 600 horsepower for outstanding mobility while still exceeding fuel economy targets.
On land, the ACV 1.1's independent suspension system improves ground mobility and ride quality for Marines. In water, its hydraulically driven propulsion systems with full independent thrust control authority and innovative water mode cooling solution supports safe operation at Sea-State 3 for ship-to-shore operational employment and through six-foot plunging surf.
Within the vehicle, state-of-the-art technologies include 360-degree situational awareness, force protection through leading blast protection seats, and a V-Over-VTM hull design to keep Marines alive in combat. All Engineering, Manufacturing, and Development (EMD) vehicle hulls are manufactured and integrated in the United States.
"Our vehicle was designed with future Marines in mind. We are equipping a new generation of Marines with the latest technology that they have grown accustomed to and using it as a way that will improve warfighting capability and could potentially save their lives," said Bernie Ellis, SAIC ACV 1.1 program manager.
SAIC has a proven track record – more than 10 years – of modifying and upgrading armored vehicles for the Department of Defense ensuring warfighters are protected during combat, while securing command and control and repair capabilities. ST Kinetics is one of Asia's leading land systems and specialty vehicles companies having delivered hundreds of TERREX vehicles to the Singapore Armed Forces as well as the Warthog, a twin chassis, multi-purpose articulated tracked carrier, to the British Armed Forces.
Last February, the Marine Corps awarded SAIC a $121.5 million contract for the EMD phase of the ACV 1.1 program. Additionally, SAIC is currently the prime contractor providing the Marine Corps with initial survivability upgrades to 10 Assault Amphibious Vehicle (AAV) prototypes.
Sergyi Way
28.02.2017



www.army-guide.com
Share...





Kongsberg and Milrem Robotics Showcase a Robotic Antitank and HMG System at AUSA
14.10.2018
SAIC Announces Teaming Agreement with ST Kinetics and CMI Defence to Develop Ground Combat Vehicle Prototype
08.10.2017
U.S. Marine Corps Advances SAIC to Next Phase of AAV SU Production
20.09.2017
Weaponized UGVs are Aiming at the Battlefield
02.12.2016
Science Applications International Corp. (SAIC)
Discuss