319 GRIFFON and 20 JAGUAR vehicles ordered from Nexter, Renault Trucks Defense and Thales by the DGA as part of the SCORPION program
Category: Contracts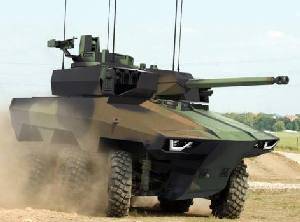 Versailles -- The French Procurement Agency (DGA) placed the first production order with Nexter, Renault Trucks Defense and Thales for 319 GRIFFON and 20 JAGUAR vehicles as part of the Multi-role Armored Vehicle contract. This contract includes logistic support and the associated training.
A crucial stage in the SCORPION programme, the awarding of this conditional tranche will thus launch the production of these new vehicles after only 27 months of development.
The GRIFFON Multi-role Armored Vehicle and the JAGUAR Armored Reconnaissance and Combat Vehicle, both of which benefit from a high level of protection, respectively replace the VAB and the AMX10RC, the SAGAIE ERC and the VAB Hot, used intensively by the Army for over thirty years. They will enable the French Army to have a state-of-the-art combat tool with the best protection technologies and the best possible use to be made of digitized data on the battlefield.
The Nexter, Renault Trucks Defense and Thales teams are perfectly aligned in order to achieve the contractual milestones and to meet the qualification and production commitments, with the first deliveries of the GRIFFON in 2018 and of the JAGUAR in 2020. Pooling of know-how and innovation capabilities creates the strength to design "connected" vehicles for tomorrow's collaborative combat, featuring a high level of protection, optimum adaptability by means of the vehicles' ability to be reconfigured according to the operational requirements, great mobility, and leading edge weapon systems.
The SCORPION programme provides for the delivery by the Temporary Business Grouping of 1,668 GRIFFON vehicles and 248 JAGUAR engines to the French Army, as well as the associated logistic support facilities.
Jean-François Pellarin, Director of the SCORPION programme within the Temporary Business Grouping and the representative for the EBMR contract, stated "We are proud of this new sign of confidence on the part of the French Procurement Agency and can't wait to start producing this new equipment, which will project the operational capabilities of the Army to the future ".
Thales
25.04.2017

Share...





TEMPORARY COMPANY GROUPING EBMR MEETS ITS DELIVERY OBJECTIVES FOR 2019
14.01.2020
Rheinmetall Presents Next Gen "Wiesel Wingman" solution for Robotic Combat Vehicle – Light at AUSA 2019
04.11.2019
THALES AUSTRALIA AND GENERAL DYNAMICS ORDNANCE AND TACTICAL SYSTEMS DELIVERING FOR THE ADF
12.06.2019
FN Herstal Enhances Self-Protection Capabilities of deFNder RWS with ANTARES Situational Awareness System
11.06.2018
Thales Raytheon Systems France
Thales Optronics (Taunton) Ltd
Thales Training & Simulation (USA)
Jagdpanzer Jaguar 1 (Self-propelled antitank guided missile system)
Jaguar EBRC (Reconnaissance Vehicle)
JAGUAR (Robot, Unmanned Vehicle)
Jaguar (Wheeled armoured personnel carrier)
Griffon VBMR (Wheeled armoured personnel carrier)
Discuss