General Dynamics to Deliver New EAGLE 4x4 Armored Patrol Vehicles to Denmark
Category: Defence Industry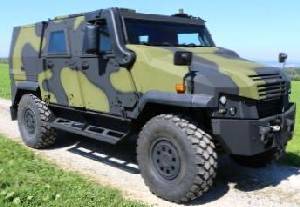 MADRID -- General Dynamics European Land Systems (GDELS) has been awarded a supply contract for the Danish Army's new 4x4 Armored Patrol Vehicle program (APV). After a competitive tendering process, including an intensive comparative vehicle trial, the Danish Defence Acquisition and Logistic Organization (DALO) has selected GDELS-Mowag's EAGLE 4x4 vehicle platform.
The initial batch consists of 36 vehicles in the Patrol configuration with first deliveries in 2018. The contract has options for further variants including Electronic Warfare, Support and Reconnaissance. The vehicles will complement the Danish Army's existing EAGLE vehicle fleet.
"We are very proud to have received this contract after an intensive international competition. The Eagle's selection underlines the confidence and satisfaction of our Danish customer with our products and proves the "first-in-class" position of our EAGLE 4x4 in the segment of light and highly protected vehicles." said Thomas Lattmann, Director International Business & Services, General Dynamics European Land Systems.
The contract was signed on June 15, 2017, through General Dynamics European Land Systems – Mowag, the Switzerland-based subsidiary of General Dynamics European Land Systems.
Facts about the EAGLE 4x4
The EAGLE 4x4 is one of the most advanced light armored wheeled vehicles and it has demonstrated its excellence in various military missions. The tremendous growth potential and power reserves of the EAGLE will provide the Danish Armed Forces with a vehicle capability to meet today's and tomorrow's requirements. Different configurations of the EAGLE vehicle family are successfully in service with the Danish Armed Forces, the German Bundeswehr and the Swiss Army. In addition to its unmatched level of protection, the EAGLE 4x4 provides increased payload and crew capacity. With its unique suspension and drive-line system, the EAGLE 4x4 sets the standard in terms of mobility and maneuverability in this vehicle class.
GDELS
05.07.2017

Share...





Germany awards 159 MUSD vehicle contract to GDELS
24.04.2020
BAE Systems` CV90 increases lethality by testing SPIKE LR anti-tank guided missile
14.01.2020
CONTRACT TO DELIVER REMOTE WEAPONS STATIONS TO DENMARK WORTH 270 MNOK
11.12.2019
Switzerland awards contract to General Dynamics European Land Systems- Mowag to deliver 100 EAGLE 6x6 reconnaissance vehicles
06.12.2019
General Dynamics European Land Systems - GDELS
Dalian Eagle Sky Industries Co., Ltd - DES
Eagle III (Observation Post Vehicle)
Eagle V 4x4 (Tactical vehicle)
Eagle V 6x6 (Tactical vehicle)
EAGLE IV (Robot, Unmanned Vehicle)
Discuss