First Parade On The Champs-Elysees For The Armysís Future Connected Armorsd Vehicle
Category: Defence Industry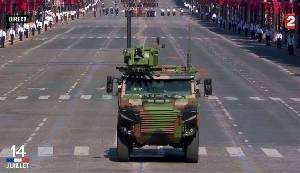 Versailles -- Nexter, RENAULT TRUCKS Defense and Thales are proud to have contributed to the success of the July 14th parade on the Champs-Elysées with the presence of a Multirole Armored Vehicle (VBMR) in a dynamic demonstration in front of the Presidential grandstands.
The VBMR will succeed the VAB, manufactured in the 70s and 80s and used intensively by the French Army in all its theatres of operation in the last thirty years. The VBMR will be an info-enhanced vehicle interconnected in real time to other vehicles thus providing new operational capability, collaborative combat.
This first dynamic demonstration of the VBMR, whose development, manufacture and vehicle support contract was awarded by the French Defence Procurement Agency (DGA) in December 2014, reflects the concrete advances of the Scorpion programme. It demonstrates compliance with the development and industrialisation schedules by the France team targeting the first deliveries of the VBMR by end 2018. It is also the result of a beneficial and efficient collaboration between Nexter, RENAULT TRUCKS Defense and Thales, united in a temporary joint venture, and their service providers and partners, coordinated by DGA on behalf of the French Army.
This programme, structuring for Nexter, RENAULT TRUCKS Defense and Thales, and for the entire French industrial fabric affected by the JV outsourcing orders, gives significant impetus to our terrestrial defence industry.
Sergyi Way
25.07.2017



www.army-guide.com
Share...





TEMPORARY COMPANY GROUPING EBMR MEETS ITS DELIVERY OBJECTIVES FOR 2019
14.01.2020
Rheinmetall Presents Next Gen ďWiesel WingmanĒ solution for Robotic Combat Vehicle Ė Light at AUSA 2019
04.11.2019
CZECH REPUBLIC SIGNED THE ACQUISITION CONTRACT FOR 62 TITUS
30.07.2019
THALES AUSTRALIA AND GENERAL DYNAMICS ORDNANCE AND TACTICAL SYSTEMS DELIVERING FOR THE ADF
12.06.2019
Renault Vehicles Industriels, Defence Direction
Thales Raytheon Systems France
Thales Optronics (Taunton) Ltd
Thales Training & Simulation (USA)
Griffon VBMR (Wheeled armoured personnel carrier)
Serval VBMR Leger (Wheeled armoured personnel carrier)
Discuss