New X-2 Platform and Control System to be launched at DSEI 2017
Category: Exhibitions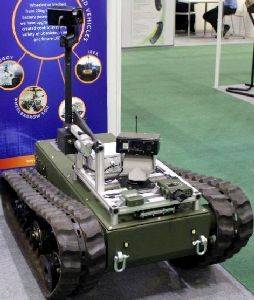 HINCKLEY, UK. September 1st 2017. Digital Concepts Engineering is launching the X-2 Unmanned Ground Vehicle fitted with the Marionette control system at DSEI. Exhibited as a CBRN (Chemical, Biological, Radiological and Nuclear) detection platform it is also well suited to EOD, Search & Rescue, Perimeter patrol, communications relay, mine detection and clearing, light weapon mount and load moving tasks and is capable of manual or autonomous operation. The platform is based on the successful IBEX autonomous robotic system.
X-2 is fitted with Marionette, a modular, low-latency control system which can be scaled to meet a wide variety of customer requirements and has already been integrated into a number of platforms, both wheeled and tracked from 20kg to 4.5 tonnes across military, agricultural, nuclear and civil applications including the Wheelbarrow EOD range of vehicles and the Sellafield First Response Vehicle.
"The X-2 is built to tackle extreme terrain whilst carrying or towing heavy loads" explains Ed Gummow, Director of Digital Concepts Engineering. "The chassis is based on our agricultural IBEX robot with an upgraded control system that gives us high-grade communications, video multiplexing, advanced sensor interfaces and more. It's a military system at an agricultural price."
Sergyi Way
14.09.2017



www.army-guide.com
Share...





General Dynamics Land Systems–UK showcases adaptable Foxhound vehicle at DSEI 2019
23.09.2019
Otokar offers solutions with technology transfer and local manufacturing models
13.09.2019
General Dynamics Land Systems–UK Will Deliver Innovative State-of-the-art Training Solutions for the AJAX Programme
14.09.2017
General Dynamics Land Systems–UK Showcases EAGLE Platform Ahead of MRV-P Programme Trials
14.09.2017
Digital Concepts Engineering Ltd
Discuss