Rheinmetall modernizing 25 more Marder IFVs for Jordan
Category: Defence Industry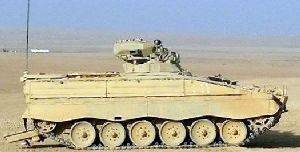 The German government has contracted with Rheinmetall to upgrade a further 25 Marder infantry fighting vehicles from surplus Bundeswehr stocks. The vehicles are destined for the Jordanian armed forces. Delivery will begin in the first quarter of 2018. The contract was awarded under a German military aid programme aimed at bolstering the capabilities of the Jordanian armed forces in the fight against international terrorism as well as for border security and stabilization missions. Booked in October 2017, the order is worth over ˆ17 million without value added tax.
Under the contract, Rheinmetall will supply Jordan with twenty-five fully modernized, former German Marder 1A3 infantry fighting vehicles, painted in a desert camouflage pattern. The package also encompasses spare parts, ammunition, documentation, special tools, customer support on location as well as training for operators and maintenance personnel.
In addition to Germany, Chile and Indonesia, Jordan is the fourth nation to deploy the enhanced-performance Marder.
Rheinmetall already supplied the Hashemite Kingdom with 25 vehicles of this type in 2016/2017. The Marder 1A3 infantry fighting vehicle weighs about 35 tonnes. Its 600 HP-engine enables a top speed of around 65 km/h, and the fighting compartment is roomy enough to seat nine soldiers. A 20mm RH-202 automatic cannon serves as the vehicle's main armament.
Sergyi Way
15.12.2017



www.army-guide.com
Share...





Rheinmetall MAN Survivor R special protected vehicle on show at GPEC 2020 international security exhibition in Frankfurt/Main
24.02.2020
Rheinmetall books ˆ110 million-contract to extend the service life of the Marder infantry fighting vehicle for the Bundeswehr
21.01.2020
Rheinmetall to Feature Next Generation 130mm Tank Gun at AUSA Global
04.11.2019
Rheinmetall Presents Next Gen "Wiesel Wingman" solution for Robotic Combat Vehicle – Light at AUSA 2019
04.11.2019
Rheinmetall MAN Military Vehicles GmbH - RMMV
Rheinmetall Verseidag Ballistic Protection GmbH
Rheinmetall Soldier Electronics GmbH
Rheinmetall AG, Representative Office Abu Dhabi
Rheinmetall Waffe Munition GmbH
Rheinmetall Defence Electronics GmbH
Rheinmetall Waffe Munition Arges GmbH
American Rheinmetall Munitions, Inc. - ARM
Rheinmetall Denel Munition (Pty) Ltd - RDM
Marder 1 (Infantry fighting vehicle)
Marder 1A5 (Modernization of the vehicle)
Marder MK 30 (Infantry fighting vehicle)
Marder 2/Kampfwagen 90 (Modernization of the vehicle)
Marder APC (Modernization of the vehicle)
Marder 105 (Modernization of the vehicle)
Discuss