Protection of BTR-87 8x8 will increase due to the use of ceramics and titanium
Category: Defence Industry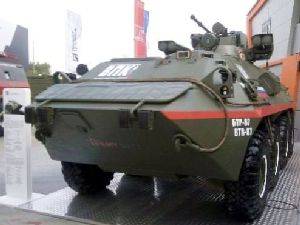 The Russian BTR-87 Armored Personnel Carrier will receive addon protective panels with special ceramics and titanium, the Vyksa's "Plant of Corps" reports.
This development of the "Military-Industrial Company" was first presented at the international "Army 2017" military-technical forum.
The armored car is considered "a radical modernization of the well-known family of BTR-80 and BTR-82 with qualitatively new characteristics". The vehicles also significantly strengthened mine protection.
"The mounted weapon station with a 30-mm gun and a coaxial 7.62-mm machine gun looks like the one that is installed on the vehicles that is being new manufactured. However, as you can see, the main armament is reinforced with 4 Kornet Anti-Tank Guided Missiles. The sighting complex includes a thermal imager and a laser range finder", the author of the article Lev Romanov writes.
BTR-87 APC also has increased mobility: "thanks to the engine with 312 hp, the Armored Personnel Carrier has a maximum speed of 90 km/h; water speed is one of the highest for vehicles of this class - up to 14 km/h, road range - 800 km", the publication said.
It is also important that the design of the BTR-87 is unified by the applied units and assemblies and can be produced in all company's factories.
Sergyi Way
13.01.2018



www.army-guide.com
Share...





Military-Industrial Company LLC completed preliminary tests of the Boomerang armored vehicle
06.12.2019
Tigr at Tank Days in Slovakia
12.07.2016
Tiger sneaks into Europe
03.06.2016
State Company UKRSPECEXPORT represents Ukraine at the International Defence Exhibition and Conference 'IDEX 2011' (Abu Dhabi, UAE) to be held from 20th till 24th February, 2011
23.02.2011
Military Industrial Company LLC - VPK
Discuss