New Armoured Infantry Fighting Vehicle (AIFV) for the German Army: The Puma on the road to success – Prototype presented to the customer
Category: Defence Industry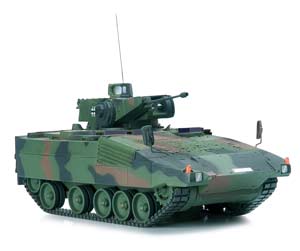 Kassel. A prototype of the new AIFV Puma for the German Army was today presented to the contracting authority. PSM GmbH, Kassel, responsible as prime contractor, has thus met an important contractual milestone with the presentation of the so-called system demonstrator on 20 December 2005.
Despite an extremely tight timescale which called for demanding engineering solutions, the most important procurement project of the German land systems industry is on the road to success.
PSM (Projekt System and Management) is a joint venture of Krauss-Maffei Wegmann and Rheinmetall Landsysteme, two of Europe´s leading systems engineering companies for armoured wheeled and tracked vehicles, each holding a 50% stake in the company. Rheinmetall Landsysteme is a subsidiary of the Dusseldorf-based Rheinmetall AG.
The Army is to receive a total of 410 vehicles representing a total value of approximately 3 billion euros. The political decision on whether the Armoured Infantry Fighting Vehicle will go into series production is expected for 2007. A contract has already been awarded for the delivery of five pre-production vehicles as well as logistic and training services.
The AIFV Puma is considered a key project of the German land systems industry and highlights the technological position of excellence of German army technology in this field. The vehicle offers an internationally unequalled performance standard, especially also in terms of crew protection in combat missions.
The Puma combines the military requirement for high strategic and tactical mobility with maximum protection as well as distinctive combat potential. It enables task forces to respond appropriately and flexibly at all times and at any level of intensity.
Designed to consistently meet the future needs of the armed forces, air-portability on the new A400M transport aircraft is a key characteristic of the PUMA, as is its flexibility and ability in combat.
The PUMA affords its crew a level of protection never before achieved by a comparable vehicle against mines and anti-tank weapons which are in widespread use in areas of crisis. The newly developed 800 kW engine, the unmanned turret as well as the programmable ammunition are setting new standards for armoured vehicles worldwide. More than 30 years after the Marder armoured personnel carrier was commissioned with the German Army, the PUMA with its extended performance spectrum is now establishing an entirely new category of vehicles.
Rheinmetall DeTec AG
22.12.2005

Share...





Rheinmetall MAN Survivor R special protected vehicle on show at GPEC 2020 international security exhibition in Frankfurt/Main
24.02.2020
Rheinmetall books ˆ110 million-contract to extend the service life of the Marder infantry fighting vehicle for the Bundeswehr
21.01.2020
Rheinmetall to Feature Next Generation 130mm Tank Gun at AUSA Global
04.11.2019
Rheinmetall Presents Next Gen "Wiesel Wingman" solution for Robotic Combat Vehicle – Light at AUSA 2019
04.11.2019
Rheinmetall MAN Military Vehicles GmbH - RMMV
Rheinmetall Verseidag Ballistic Protection GmbH
Rheinmetall Soldier Electronics GmbH
Rheinmetall AG, Representative Office Abu Dhabi
Rheinmetall Waffe Munition GmbH
Rheinmetall Defence Electronics GmbH
Rheinmetall Waffe Munition Arges GmbH
American Rheinmetall Munitions, Inc. - ARM
Rheinmetall Denel Munition (Pty) Ltd - RDM
Puma 4x4 (Reconnaissance Vehicle)
Puma 6x6 (Wheeled armoured personnel carrier)
BWP-1M Puma (Infantry fighting vehicle)
Puma (Infantry fighting vehicle)
Puma M26 (Mine protected carrier)
Puma M36 (Mine protected carrier)
Discuss