The Transatlantic Partner for Land Defense in Europe - General Dynamics European Land Systems premiers four new offerings at EUROSATORY 2018
Category: Exhibitions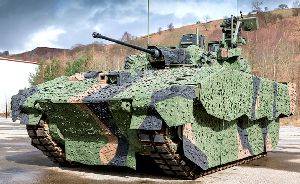 MADRID -- General Dynamics European Land Systems (GDELS) will present four new offerings at the EUROSATORY Defense & Security International Exhibition 2018, between June 11th and June 15th in Paris, in Hall 5A – Stand No. E839.
The company will showcase new variants of the ASCOD family of tracked vehicles:
ASCOD Medium Main Battle Tank (MMBT): With a GVW of 42 tons, it is fitted with a modern 120mm manned turret system, armed with a 7.62 mm coaxial machine gun. The 120mm smoothbore gun fires standard NATO ammunition and is coupled to a computerised fire control system giving the commander and gunner stabilised day/thermal sights incorporating a laser rangefinder.
ASCOD Infantry Fighting Vehicle (IFV): With a GVW of 35 tons and increased volume for the rear troop compartment, it is fitted with an unmanned turret including a 30mm dual feed cannon, 7.62mm co-axial MG, a pod of two anti-tank guided missiles (ATGM), a Hard Kill Active Defence System and an advanced 360 degree sight system for increased situational awareness.
Both ASCOD vehicles have been developed using General Dynamics European Land Systems' new "Common Base Platform Design" (CBP) with modular capability and open vehicle architecture with three power-pack solutions between 530, 600 and 800kW, either steel tracks or rubber bands and multiple configurations up to the crew of three plus 8 dismounts. The advanced CBP design ensures all ASCOD variants are on one common platform for a reduced logistics footprint. This also facilitates cross-national vehicle manufacturing and operational interoperability between different military users in response to the political vision to foster defence cooperation across Europe.
A new version of the PANDUR 6X6 will be on display:
General Dynamics European Land Systems will introduce the PANDUR 6x6 EVO, the new version of its proven PANDUR vehicle family. With a GVW up to 18.5 tons, the PANDUR 6X6 EVO in its Armored Personnel Carrier (APC) configuration has been selected by the Austrian Army. Due to its new innovative hull design, driveline technology, and power-pack, the compact 6x6 vehicle provides a significantly increased level of protection, payload, and mobility while accomodating a crew of 11 soldiers (3+8). The PANDUR 6x6 EVO is fitted with a 12.7mm Remote Controlled Weapon Station.
A new medium mechanized bridge system:
The new Variable Folding Bridge (VFB) is a flexible and modern bridge system, which can be temporarily or permanently fitted on various medium-weight wheeled and tracked armored vehicles. With the Bridge Launching Mechanism (BLM) by Pearson Engineering, the Variable Folding Bridge can be attached to the vehicle via a standard Pearson Engineering Jettison Fitting Kit. The VFB on display will be mounted on a standard 8x8 wheeled armoured vehicle PIRANHA 3 and has a length of 15 meters with a load capacity of MLC50.
In cooperation with General Dynamics Mission Systems, GDELS will display an EAGLE 6x6 Command Post fitted with various network capabilities like Satellite on the Move (SOTM) and Battlefield Management System (BMS). It emphasizes General Dynamics' advanced system capabilities and track record in the area of Digitized Land Base Operations (D-LBO).
GDELS
08.06.2018

Share...





Germany awards 159 MUSD vehicle contract to GDELS
24.04.2020
General Dynamics European Land Systems handover the first PIRANHA Wheeled Armoured Vehicle to Denmark
19.05.2017
General Dynamics European Land Systems delivers the 500th EAGLE to the Bundeswehr
29.04.2014
General Dynamics European Land Systems presents the EAGLE V 4x4 recently awarded by the German Army at DSEI 2013
31.08.2013
General Dynamics European Land Systems - GDELS
ASCOD (PIZARRO/ULAN) (Infantry fighting vehicle)
ASCOD II (ULAN) (Infantry fighting vehicle)
ASCOD SV (Infantry fighting vehicle)
ASCOD II APC (Infantry fighting vehicle)
Discuss