BAE Systems debuts iFighting® for combat vehicles at Eurosatory
Category: Exhibitions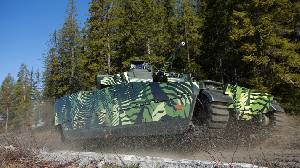 iFighting®, a concept that fuses together data from different systems within a combat vehicle, such as the CV90 MkIV, to filter through and prioritize the most critical information.
BAE Systems will present a new solution for addressing the challenge of battlefield situational awareness at the 2018 Eurosatory trade show in Paris this week.
Called iFighting®, the technology is designed to optimize vehicle and crew performance by harnessing data to enable faster decision-making in combat.
BAE Systems will be displaying the latest version of the CV90 Infantry Fighting Vehicle, known as the MkIV, integrated with iFighting®. The MkIV, the fifth generation CV90, features advancements in speed, mobility, and electronics, and is being offered to the Czech Republic to replace its aging fleet of infantry fighting vehicles.
Based on technology integrated by BAE Systems, the iFighting® concept fuses together data from different systems within the vehicle to filter through and prioritize the most critical information. This allows the crew to make quicker and more effective decisions to improve overall performance on the battlefield.
"As we roll out new technology, we know that adding displays and panels to combat vehicles could potentially distract crews in an already-complex combat environment. The key was finding a way to help improve situational awareness and combat efficiency without adding to the crews' cognitive workload, and we believe we have done that with iFighting®," said Tommy Gustafsson-Rask, vice president and general manager of BAE Systems' Hägglunds business, which designed and built the new CV90 MkIV. "iFighting® is not a product or a system. It is the core of system integration for the future armoured vehicle."
The CV90 MkIV will also have the fourth generation Electronic Architecture compatible with NATO-standard Generic Vehicle Architecture (NGVA), which allows crews to manage large amounts of live-stream data and is interoperable within the NATO Alliance. This step change will enable the introduction of autonomous crew support, machine-learning algorithms — including artificial intelligence capabilities — and augmented reality with the support of 3D map data to enable future adoption and growth.
"With advanced electronics, iFighting® creates a more combat-effective system by reducing the amount of information the soldier needs to process," said Mikael Segerman, BAE Systems Hägglunds director for the Czech Republic. "This results in increased situational awareness to aid decision-making on the complex battlefield. iFighting® ultimately helps to improve the performance of an inexperienced crew, as well as amplifying that of an experienced team."
BAE Systems has partnered with several Czech companies to offer the CV90 MkIV to the Czech Army. The MkIV was unveiled earlier this year as the latest version of the combat-proven CV90, which is in service with numerous European nations.
BAE Systems
12.06.2018

Share...





BAE Systems` CV90 increases lethality by testing SPIKE LR anti-tank guided missile
14.01.2020
U.S. Marine Corps orders more Amphibious Combat Vehicles
11.11.2019
RAVEN Countermeasure System protects vehicles from missile threats
15.10.2019
BAE Systems unveils Robotic Technology Demonstrator Vehicle at AUSA
15.10.2019
BAE Systems Land Systems Hagglunds AB
BAE SYSTEMS Advanced Technology Centre
BAE SYSTEMS Customer Solutions & Support Land & Sea
BAE SYSTEMS Operational Training
BAE SYSTEMS RO Defence Small Arms Ammunition Division
BAE Systems North America, Land & Information Systems
CV90 (Repair and recovery vehicle)
CV90 Armadillo (Tracked armoured personnel carrier)
CV90 Mk IV (Infantry fighting vehicle)
Discuss