General Dynamics Ordnance and Tactical Systems Awarded Contract for U.S. Army's Ground Mobility Vehicle Program
Category: Defence Industry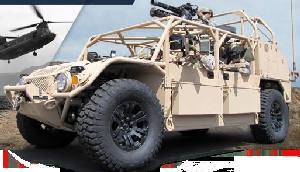 ST. PETERSBURG, Fla. -- General Dynamics Ordnance and Tactical Systems was awarded a $33.8 million contract on May 22, 2018, by the U.S. Army Contracting Command, Warren, Mich., for the production of Army Ground Mobility Vehicles (AGMV) and associated kits.
Based on the GMV1.1 vehicle the company is currently delivering to the U.S. Department of Defense, the AGMV configuration carries an airborne infantry squad with a payload capability of over 5,000 pounds. It shares approximately 90 percent parts commonality with the GMV1.1 and meets the same strategic lift requirements. The AGMV's open design provides the ability to readily modify the vehicle to accept already developed kit configurations such as remote and manned turrets, armor and arctic kits.
"The AGMV brings the right capability and performance to the Army for their immediate need and future requirements due to its highly reliable, adaptable and versatile design," said Steve Elgin, vice president and general manager of armament and platform systems for General Dynamics Ordnance and Tactical Systems. "By leveraging the GMV1.1 program, the Army can take advantage of the engineering, development and testing that has already been completed by Department of Defense. This significant time savings, along with the proven performance of the deployed GMV1.1 vehicles, gives the Army the ability to get this urgently needed capability into the warfighter's hands now."
Estimated completion of this contract is March 2019.
The GMV1.1 (M1288) and AGMV (M1297) are part of a family of vehicles developed by General Dynamics and Flyer Defense. The family includes the Flyer60 ITV, the Flyer72 Light Reconnaissance Vehicle (LRV) and the newest variant the Flyer72 Tactical Utility Vehicle (TUV).
General Dynamics
28.06.2018

Share...





KONGSBERG CONCLUDES A $ 54 MILLION CONTRACT FOR THE DELIVERY WEAPON STATIONS TO CANADIAN ARMY
05.06.2020
Germany awards 159 MUSD vehicle contract to GDELS
24.04.2020
Switzerland awards contract to General Dynamics European Land Systems- Mowag to deliver 100 EAGLE 6x6 reconnaissance vehicles
06.12.2019
General Dynamics Land Systems–UK showcases adaptable Foxhound vehicle at DSEI 2019
23.09.2019
General Dynamics Land Systems - GDLS
General Dynamics Ordnance and Tactical Systems
General Dynamics European Land Systems-Mowag GmbH
General Dynamics Santa Barbara Sistemas
General Dynamics Armament Systems
General Dynamics Defence Systems
General Dynamics European Land Systems-Steyr GmbH
General Dynamics Armament and Technical Products (GDATP)
General Dynamics Amphibious Operations - GDAMS
General Dynamics Corp., Advanced Information Systems
General Dynamics Robotic Systems - GDRS
General Dynamics Land Systems - GDLS - Canada
General Dynamics European Land Systems - GDELS
Flyer-72 ALSV (Patrol Vehicle)
Discuss