Otokar Receives $28.9 Million Contract for its Armored Vehicles
Category: Contracts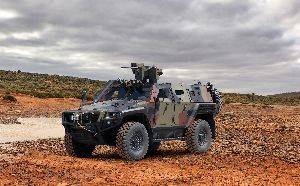 Otokar, leading supplier of the Turkish Military and Security Forces for wheeled tactical vehicles, was awarded 28.9 million USD contract for its tactical wheeled armored vehicles. The delivery of the vehicles will be completed in the first quarter of 2019. The contract also includes spare parts and training services.
Highlighting Otokar's success at global markets, General Manager Serdar Görgüç stated, "Our strength in the defense industry is driven by our experience, engineering and R&D capabilities, and successful use of technology. Today over 30,000 Otokar military vehicles are in service in many different parts of the world with an outstanding performance. Our military vehicles serve almost 50 different end users in over 30 countries."
Görgüç continued: "Otokar continues to increase its armored vehicle deliveries in line with user expectations. The success of Otokar's vehicles has always been a reference for new orders. We are proud that this new order is awarded by an existing user of our armored vehicles. Otokar has also started to stand out in global scale not just for its products with fully-owned intellectual property rights, but also with its know-how, engineering, R&D and technology transfer capabilities."
Sergyi Way
31.07.2018



www.army-guide.com
Share...





Otokar offers solutions with technology transfer and local manufacturing models
13.09.2019
AKREP II electric armored vehicle presented in Turkey
25.04.2019
Cobra-1600 EOD UGV for the first time entered service brigade of the Russian army
10.08.2018
Otokar debuts its Light Tank in Paris
19.06.2018
OTOKAR Otobus Karoseri Sanayi A.S.
COBRA (Wheeled armoured personnel carrier)
Cobra-K (Infantry fighting vehicle)
Cobra-S (Infantry fighting vehicle)
COBRA (Control and command vehicle)
COBRA (Reconnaissance Vehicle)
COBRA (Nuclear/biological/chemical reconnaissance vehicle)
COBRA II (Wheeled armoured personnel carrier)
Cobra (Tracked armoured personnel carrier)
COBRA MK2 (Robot, Unmanned Vehicle)
Cobra (Wheeled armoured personnel carrier)
Cobra (Mine protected carrier)
Cobra (Wheeled armoured personnel carrier)
COBRA MK2 Ñ (Robot, Unmanned Vehicle)
COBRA MK2 E (Robot, Unmanned Vehicle)
Cobra (Wheeled armoured personnel carrier)
Discuss