Nerekhta multifunctional UGV on the State tests
Category: Robots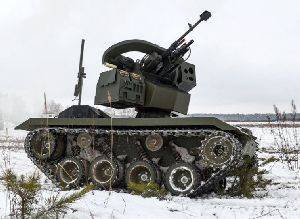 The Ministry of Defense of Russia has published video of testing the latest Russian Nerekhta Ñombat Unmanned Ground Vehicle (CUGV) which interacts with the fighters of motorized rifle units.
"We were put in tough temporary conditions for the timely release of Nerekhta to the State tests as part of the Kungas complex," - says Dmitry Alberovich Fufaev, Deputy Chief Designer of Degtyarev Plant. "In an expeditious manner, it was necessary to refine the sample to the requirements of the complex in terms of communications and control systems. In the shortest possible time, the Degtyarev Plant managed to do this."
"3 months after the final approval of the technical specifications in February 2018, we entered preliminary tests with three prototypes. In addition to the robot itself, the Degtyarev Plant was presented with a shooting and grenade launcher weapon station for an average APC-based robot for the Airborne Forces and a KamAZ‑4350 vehicle chassis and transportation system. According to the results of tests conducted by the State Commission, an act will be drawn up with a recommendation to adopt the complex."
Sergyi Way
05.02.2019



www.army-guide.com
Share...





Kungas Unmanned Ground Vehicle Tested in Russia
11.12.2019
In Russia started testing the Marker UGV
05.03.2019
The Nerehta Combat Unmanned Ground Vehicle is ready to be adopted by the Russian army
04.07.2018
In Russia will be tested the Nerehta combat robot
19.12.2017
Open Joint-Stock Company V A Degtyarev Plant
Discuss