At the Army-2019 will be presented a new version of the Tiger armored vehicle.
Category: Exhibitions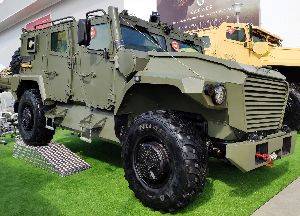 At the Army-2019 Fifth International Military-Technical Forum, which will open on June 25, 2019 in Kubinka (Moscow region, Russia), Military Industrial Company (part of the GAZ Group) will present Tiger Next, a new version of the 4x4 multipurpose protected vehicle. According to some reports, the it has the official designation Tiger AMN-2.
The new vehicle will have a higher payload up to 1.6 tons, a more powerful diesel engine than the previous versions. It is designed for the transport of personnel and special cargoes and is equipped with air cleaning and air conditioning systems; it can withstand the detonation of mines up to 6 kg in TNT equivalent.
Sergyi Way
24.06.2019



www.army-guide.com
Share...





Tigr at Tank Days in Slovakia
12.07.2016
Tiger sneaks into Europe
03.06.2016
Textron Marine & Land Systems Presents Tiger Light Protected Vehicle to Slidell Police Department
06.08.2013
Heavy Tank
25.03.2013
GAZ-2330 STS Tiger (Tactical vehicle)
Tiger (Reconnaissance Vehicle)
VPK-233136 Tiger-M (Tactical vehicle)
China Tiger (Wheeled armoured personnel carrier)
Tiger Next/AMN-2 (Tactical vehicle)
Discuss