Kapitan UGV has passed the tests in Russia
Category: Robots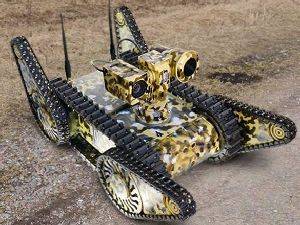 Russian engineering troops will soon begin to get into service the newest Kapitan Small-sized Unmanned Ground Vehicle (UGV), which has already passed the full cycle of field tests. Ministry of Defense of the Russian Federation reports about it.
The newest engineering robot Kapitan has a modular layout and, depending on the tasks performed, can use various special equipment, which, thanks to a special docking station, can be installed within a few minutes. Among the tasks that can be performed using this platform are mine clearance, visual reconnaissance, in the future it is planned to deploy electronic warfare equipment on it.
UGV is a miniature tracked vehicle with a height of not more than 50 cm. The case contains control units and batteries. A special docking station allows operators to place a hand manipulator or reconnaissance equipment on the body, including removable systems that allows to conduct audio and visual reconnaissance of the terrain, including both in normal and infrared modes. Cameras can be additionally equipped with 40x optical zoom.
The ability to "see" in any weather and in any light or without it, will allow the use of Kapitan UGV in the survey of premises, basements, caves and various shelters.
To perform demining work, a robotic arm is installed on the robot, which has five degrees of freedom. With this device, Kapitan is able to lift and move cargo up to 7 kg.
In autonomous mode, the robot can move away from the remote control in an open area up to one kilometer away, and in urban areas it can reach up to 500 m. A single battery charge lasts six hours of full-time work. The maximum speed of movement on the middle terrain is 5.5 km/h. The control is wireless, but there is a function to connect an optical fiber cable up to 200 meters long.
Sergyi Way
30.07.2019



www.army-guide.com
Share...





Kungas Unmanned Ground Vehicle Tested in Russia
11.12.2019
Robotic Warfare Systems Will Bring Disruption to the Battlefield, Milrem Robotics' Study Finds
25.04.2019
In Russia started testing the Marker UGV
05.03.2019
Counterfeit aero engines threaten international aviation security
08.02.2019
Armet Armored Vehicles AAVI Russia
PARALLAKS Ukraine-Russia Joint Scientific Industrial Enterprise
Kapitan (Robot, Unmanned Vehicle)
Discuss