FLIR Wins U.S. Army Heavyweight Robot Contract Worth Up to $109M
Category: Robots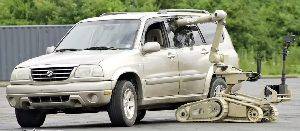 ARLINGTON -- FLIR Systems, Inc. announced that its Kobra™ robot has been chosen for the United States (U.S.) Army's Common Robotic System-Heavy (CRS-H) program. The five-year production contract to build upwards of 350 unmanned ground vehicles (UGVs) is worth up to $109 million.
The CRS-H program will give the Army a 'program of record' to build and sustain a fleet of large UGVs for years to come. The CRS-H platform calls for a robot weighing up to 700 pounds. Army Explosive Ordnance Disposal (EOD) units will use the system to perform a range of missions, such as disarming vehicle-borne improvised explosive devices (VBIEDs), unexploded ordnance, or related heavy-duty tasks. A variety of sensors and payloads also can be added to the UGV to support other missions.
"We are pleased to be selected for the U.S. Army's CRS-H program and deliver lifesaving robotic technology to our soldiers," said Jim Cannon, president and CEO at FLIR. "This award exemplifies why we acquired Endeavor Robotics earlier this year — to capture strategic programs of record that enable us to integrate advanced solutions for the warfighter, give us the fuel to grow our business, and strengthen our position as a leader in unmanned systems."
Over several months and two rounds of testing, the Army compared the FLIR Kobra with other vendor systems. Entrants were evaluated on robot reliability, maneuverability, and usability, among other factors before Kobra was selected as the winner. Previously, in 2017 the Army chose FLIR's legacy business, Endeavor Robotics, as its medium-sized UGV provider through the Man Transportable Robotic System Increment II (MTRS Inc II) contract. FLIR is delivering its Centaur™ UGV under this on-going program.
"Our CRS-H platform will give soldiers a powerful, extremely mobile, yet highly transportable UGV, ready to deploy at a moment's notice to keep them out of harm's way," said David Ray, president of the Government and Defense Business Unit at FLIR. "This win is a testament to our employees who've designed such an advanced, multi-mission UGV. We look forward to working with the Army to get this robot into the field and deployed with our warfighters."
FLIR Kobra delivers unmatched strength, power, and payload support in an easy-to-operate robot package. Kobra has a lift capacity of 330 lbs. (150 kg.) and can stretch up to eleven-and-a-half feet to access hard-to-reach places. Ready for indoor and outdoor use, Kobra maintains mobility on tough terrain and can overcome obstacles such as jersey barriers.
The award covers a five-year production period with shipments beginning in the second quarter of 2020.
FLIR
06.12.2019

Share...





Adds to Existing $57.9M IDIQ Contract for Sustainment Activity across All FLIR Unmanned Ground Systems
02.02.2021
FLIR Systems Awarded $74.7 Million Contract for Land Surveillance Systems for U.S. Army
04.10.2017
Patria's latest technology featured at DSEI 2017
11.09.2017
Recapitalization of 218 M1A2 Tanks and Related Equipment and Support
16.12.2016
FLIR Systems Inc. Middle East Optronics FZCO
710 Kobra (Robot, Unmanned Vehicle)
Discuss